Attracting the ideal leads for your academic service or ed-tech product can feel like a daunting task at times, but it doesn't have to be! With the right education lead generation strategies in place, you can make sure that your school is top-of-mind for prospective leads in the education sector.
From identifying and targeting the right leads to creating a compelling onboarding experience, there are plenty of ways to boost your product sales and make your educational offering stand out from the crowd.
Every year, more and more students enroll in higher education, leading to an increased need for smart educational solutions in place.
Studies show companies using telemarketing calls grow 42% more than other companies. It says that various consumers prefer meetings on phone calls making it a good strategy for lead generation.
So, let's dive into some lead generation strategies for higher education institutions!
Effective Strategies For Higher Education Lead Generation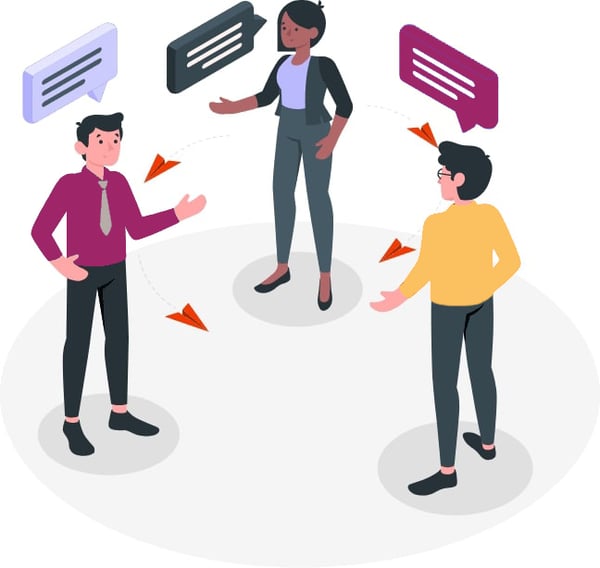 1. Peer-To-Peer Chat
Implementing peer-to-peer communicative mechanisms within the realm of higher education can result in substantial benefits for lead generation. The progression of technology and the advent of digital educational platforms have afforded perspective to explore better educational opportunities. Collect individualized feedback from various sources, such as agents, student representatives, institutional personnel, and academic authorities.
Peer-to-peer interaction can serve as a support system and provide access to contemporary trends. By fostering relationships with knowledgeable individuals, you can understand today's and futuristic expectations of your target academic authorities.
2. Use The Power Of Linkedin
Google Trends data suggests a growth in searches for educational information, specifically related to tutorials and DIY projects. As a higher education marketer, this is a prime opportunity to showcase expertise and thought leadership. By creating relevant instructional content, you can address the current needs and concerns of prospective decision-makers.
Your instructional content should effectively communicate the offerings and capabilities of educational solutions. Video can also play a crucial role in building personal connections at a time when in-person communication is limited. Live videos on LinkedIn generate 7 to 24 times more comments than regular videos.
3. Eye-Catching Landing Pages And Websites
An Ed tech company's landing page is a crucial aspect of a higher educational marketing strategy, acting as a standalone web platform offering specific information and aimed at encouraging target groups to take a desired action.
The landing page should be designed to align with your targeted persona for the program. It should provide comprehensive information and be optimized for search engines. This will effectively drive quality organic and paid web traffic from prospects seeking information on your program.
You must also incorporate key details on the landing page, including scheduling, cost, location, course objectives, prerequisites, and other relevant information prospects may be searching for.
To further enhance the page, consider taking testimonials from previous clients or relevant connections to serve as social proof. Use visually-appealing photography, striking headings, distinctive design, and emphasized text to accentuate information and guide users seamlessly through the page.
4. Nothing Can Work Better Than An Effective Call-To-Action
A well-crafted Call-to-Action (CTA) can ignite interaction and foster bonds by facilitating the progression of the educational journey. To achieve maximal impact, a CTA must have clarity, concision, and pertinence to the intended demographic. It should allow clients to take prompt action and make it uncomplicated for prospects to buy the academic solutions you offer.
Examples of effective CTAs for higher education lead generation:
Get your free information package now
Apply for a product demo
Join our virtual open house
Start your membership journey with us
Book an appointment
In fact, according to Hubspot, a clear and compelling CTA can increase conversion rates by up to 202%. It is also important to ensure that the CTA is consistent with the rest of the messaging and branding used by the institution. A/B testing can help determine which CTAs should be used in future campaigns.
5. Marketing Funnel For More Lead Generation
There should be an integration of marketing tactics such as IG and Facebook ads, YouTube promotional videos, and blogs, among others, into a sales funnel for achieving effective results in your sales strategy.
The marketing funnel is a series of marketing-oriented steps to guide leads from their initial introduction to your offer and attract them to sign up for your product's purchase.
The marketing funnel is not limited to specific marketing techniques such as email marketing, social media, or Facebook ads. Instead, it endeavors to create awareness about your solutions by targeting B2B companies with the relevant information they are seeking.
The higher education sales funnel comprises five key stages, each designed to advance prospects along the path to making a buying decision.
Awareness
Interest
Decision
Conversion
1. Awareness: This is the first stage where customers become aware of the services you offer. It can be achieved through various methods, such as content marketing, digital advertising, and social media.
2. Interest: At this stage, your customers show an interest in the courses offered by your institution. They might request more information or download a whitepaper or e-book.
3. Decision: This stage is where customers evaluate the options and consider purchasing. They might compare the service with other providers, and engage in discussions with the sales team.
4. Conversion: In this stage, the potential customer becomes a qualified lead and makes a purchase. The institution can then continue to nurture the relationship through follow-up communications and up-selling opportunities.
By mapping the right marketing funnel, you can better understand your customers' journey and tailor their marketing and sales efforts to meet their needs at each stage. This, in turn, can increase the chances of generating more leads and ultimately, making more sales.
6. Start Content Syndication
The use of content syndication as an education lead-generation technique to convert prospects into buying customers in the higher education sector has been gaining prominence in recent years. By disseminating educational content through multiple distribution channels, institutions can reach a broader audience and generate more leads.
The sophisticated vocabulary and a formal tone in the content can enhance its perceived value, attracting prospects who prioritize intellectual rigor and academic excellence.
However, content syndication also presents certain challenges, including:
Quality Control
Ensuring that the content distributed is accurate and consistent across all platforms can be difficult.
Brand Consistency
Brand consistency across all platforms can be challenging when distributing content through multiple channels.
Lead Generation Tracking
Measuring the effectiveness of content syndication efforts in terms of lead generation can be difficult to track the source of leads.
Reasons Why You Use Outbound Lead Generation Strategies For Higher Education Institutions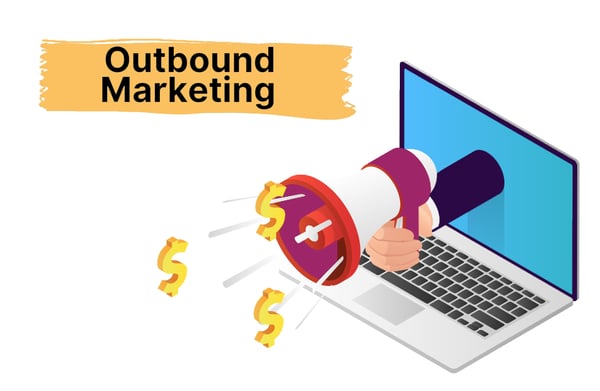 Source
Outbound marketing, in its purest form, represents a classic marketing approach. The strategy involves determining your target audience and preferred channels and proactively promoting your services through various means.

Examples of outbound marketing in higher education include exhibiting at college fairs with promotional booths, advertising your Ed tech company through TV, radio, billboard, and print ads, and disseminating email blasts to purchased lists of potential clients.

Outbound marketing proves to be effective as it provides an opportunity to reach a substantial number of prospectives. When channels are aligned with their needs and messaging is on point, it remains a tempting option for numerous Ed-tech companies.
Outbound Tips To Deliver The Best Results For Higher Education Institutions
It's important to think about every touchpoint of the customer onboarding journey - emails to texts to phone calls and beyond - and how you communicate with prospects at each stage.
Are you giving them the information they need right when they need it? Are you being consistent?
Say someone visits your website and wants to learn more about your academic solution/service. Your lead form needs to be ready to give them the lowdown.
The best way for educational marketers to make this happen is through good old-fashioned phone chats and a handy tool to manage relationships with prospects.
You can connect with robust outbound marketing services like Revnew. It uses high-end tools to automate the process of connecting, following up, and giving feedback to your sales team. Thus, you save significant time, money, and manpower.
Best Higher Education Lead Generation Tools
When evaluating lead generation software, one should consider factors such as usability, integration with existing marketing tools, pricing, features, and the benefits it offers towards accomplishing lead generation goals.
There are several options available in the market, each offering a unique set of capabilities. Some popular lead generation tools include FindThatLead, GetProspect, Hunter, Engagebuy, and ContactOut.
It is a prospecting software for B2B companies that allows you to find and reach out to qualified leads through targeted cold emails. The free version offers up to 50 leads per month, with a single user and integration with Zapier, chat, and email support.
It is a lead capture tool that extracts email addresses from LinkedIn, providing an updated B2B database. The free version allows you to discover up to 100 leads per month, with unlimited users, chat and email support, and help documentation.
Hunter is an email lead generation platform that offers domain search, email finder, and verifier, as well as email campaign assistance. The free version allows 25 monthly lead searches with unlimited users and one email account for email campaigns.
It is a CRM, helpdesk, live chat, and marketing software combined, featuring lead generation tools, automation, email marketing, and landing pages. The free version includes up to 1000 leads per month, unlimited users, and 10 landing page widgets with Zapier integration.
It is an email search engine founded in Silicon Valley that helps B2B companies in lead generation and acquisition. It offers a search portal and a Chrome extension that works on top of LinkedIn and GitHub to find emails, phone numbers, and other contact details. The tool allows unlimited searches and has already been used by over 500,000 individuals.
Get Ready To Grow Your Business With Outbound Lead Generation
Outbound marketing and other education lead generation strategies are the perfect way for Ed-tech companies to reach out and connect with other businesses in the educational sector. From in-person meetings to TV ads and email blasts that are sent to lists of qualified leads- there are many ways to get your offered service in front of the right people.
But remember, it's not just about the messaging. It's about making sure your communication is engaging at every touchpoint in the enrollment journey.
To make things easier, why not automate the whole process with outbound calling or a convenient communication tool? It's a game-changer that saves time, money, and manpower while helping you retain new prospects effortlessly.
So go ahead, get creative, and watch your education leads skyrocket!