Have you ever wondered how to create a successful sales team? A critical step is to decide between outsourcing your SDR teams and sales executives vs. in-house hiring.
Outsourcing has become increasingly popular among businesses in recent years, with more and more companies opting to delegate specific tasks and processes to external service providers.
In fact, according to a report by Statista, the global market size of outsourced services was valued at $92.5 billion in 2022 and is projected to reach $98.4 billion by 2023.
There are several reasons for outsourcing.
First, outsourcing can be more cost-effective than hiring in-house employees.
Second, outsourcing allows companies to access a wider talent pool and leverage economies of scale.
Top 5 Benefits of Outsourcing SDRs and Sales Executives
If you aim to grow your sales operations fast and effectively, outsourcing your SDRs and sales executives is one of the best options.
The following are a few of the top advantages of SDR as a Service outsourcing:
Reduced risk:
Although your vendor will hire, manage, and train the workforce, outsourcing your sales team will be a lower-risk choice than employing internally.
Availability of technology:
The most recent technology and sales tools could be available to you. It will make your sales process more effective and efficient.
Data improvement:
You can improve data management with the aid of outsourced sales teams. It ensures you have correct and current data on your clients and prospects.
Balanced cost and resources:
You can save money by using SDR as a Service significantly compared to in-house hiring while still leveraging the expertise of seasoned sales professionals.
The following are some well-known businesses that have successfully outsourced their sales teams:
HubSpot: HubSpot, a well-known provider of marketing and sales tools, has delegated some of its SDR duties to a different vendor. Thus, it enables the business to concentrate on its core capabilities while expanding its sales funnel.
Cisco: Networking giant Cisco has outsourced its inside sales operations to a vendor. Therefore, it allows the company to better focus on its strategic goals while still maintaining high levels of sales performance.
IBM: The company has contracted with vendors in other countries to handle some of its sales efforts. It is to broaden its customer base and improve revenues.
Top 5 Drawbacks of Outsourcing SDRs and Sales Executives
While outsourcing your SDRs and sales executives has many benefits, you should also consider the potential drawbacks.
Unnoticed and unchecked data:
Outsourcing your sales team can lead to poor oversight over your sales data. As such, it could result in missed opportunities or inaccurate reporting.
Massive data tracking:
With outsourced sales teams, a significant amount of data tracking will be required to ensure that the vendor meets your expectations.
Lack of openness:
Your firm and the supplier can lose faith in one another due to the absence of clarity in your sales process brought on by outsourcing.
Control issues:
When using an outsourced sales force, you have less control over the sales process and messaging to contact clients and prospects.
No feedback:
When working with an outsourced provider, getting input on your sales team's strengths and weaknesses can take time.
Choosing a reliable outsourcing provider and setting clear expectations upfront is vital to mitigate these risks.
Top 4 Benefits of In-House Hiring for SDRs and Sales Executives
Hiring SDRs and sales executives in-house can bring four advantages to your firm, including:
Enhanced motivation:
In-house sales representatives are more likely to be inspired and dedicated to your company's objectives and core principles. They are more effective at selling products/services because they know your values and mission.
Increased knowledge:
In-house sales representatives get access to additional data regarding your company's products, services, and market. They swiftly learn about your firm's key differences and competitive advantages. Hence, it can aid them in effectively marketing organizational offerings to potential consumers.
Continuous work:
The company's growth can be facilitated over time by in-house sales representatives. As a result, they are more likely to be committed to the organization in the long run.
Operation control:
More control over the sales process, from setting targets to tracking progress and measuring success. It enables you to refine and improve your sales strategy over time.
Companies that have developed effective internal sales teams and reaped the rewards include:
Shopify

,

an e-commerce platform, has developed a productive internal sales force. As a result, it assists the business in becoming among the fastest-growing e-commerce firms worldwide.
Zendesk

,

a supplier of customer service software, has built a successful inside sales team. This team has helped the firm expand from a start-up to a publicly traded corporation with over $1 billion in annual revenue.
Top 6 Drawbacks of In-House Hiring SDRs and Sales Executives
While there are several advantages to hiring SDRs and sales executives in-house, there are also potential drawbacks that you should consider. These include:
High cost:
Employing and training sales representatives in-house will be pricey. However, it's essential if your business needs to spend money on training and development initiatives – to ensure your representatives have the competencies necessary for success.
Choosing from a smaller pool:
This is especially true if your company is based in an area with a smaller talent pool.
Delayed process flows:
Building an in-house sales team can take time, particularly if companies need to pour resources into making programs for their reps to have the skills and knowledge to be successful. This can lead to delays in the sales process and impact revenue generation.
To ensure success, you must conduct thorough recruitment and training processes. It means identifying the skills and qualities essential for sales reps to succeed. This can involve:
conducting multiple rounds of interviews
using assessments to evaluate candidates' sales skills
communication abilities
cultural fit
Once hired, it is essential to provide comprehensive training to ensure sales reps have the knowledge and skills they need to be effective. This can involve:
providing ongoing coaching and mentoring
offering access to resources
training courses.
Choosing the Right Approach for Your Business
Outsourcing and in-house hiring both have their pros and cons. Here is a summary of each: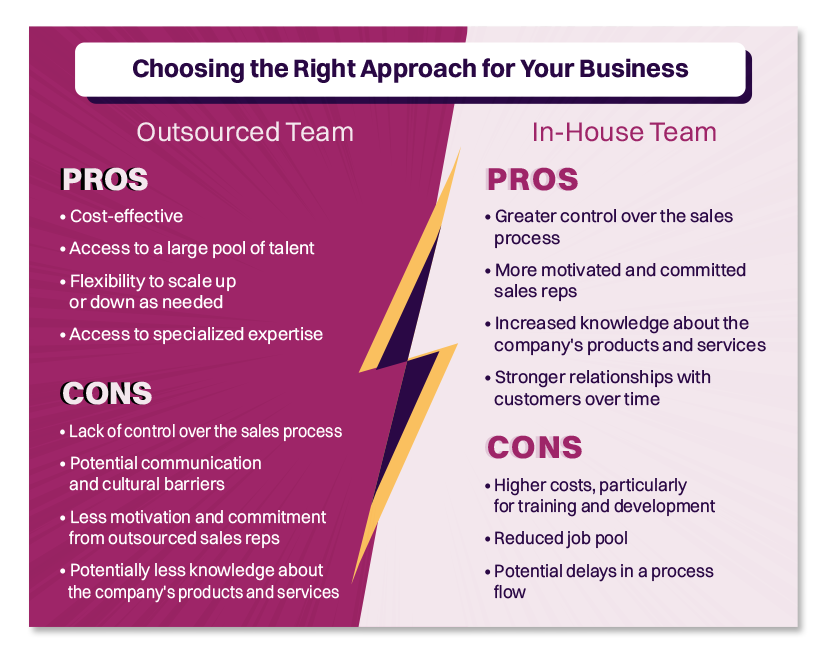 To decide between outsourcing and in-house hiring, you should consider your specific business needs, goals, and resources. Here are some tips for making the decision:
Conduct a cost-benefit analysis to compare the costs and benefits of each approach.
Consider the size and scope of the sales team needed.
Assess the level of expertise needed, particularly in complex or technical sales.
Evaluate your company culture and values to determine if in-house hiring is a better fit.
Think about your company's long-term goals and how in-house hiring or outsourcing can support those objectives.
Wrapping it Up
Outsourcing sales development teams and sales executives vs. in-house hiring can be a challenging decision for businesses.
If you're looking for a reliable outsourced sales development partner that can provide you with specialized skills, experience, and access to the latest sales technologies and tools, consider partnering with Revnew.
Revnew is a leading provider of outsourced sales development services to B2B businesses. We can help you with outsourced SDR team to churn out your lead generation efforts so that you can achieve the desired business growth.
Reach us today to discover more about how our services can help you speed up your sales revenue growth and fulfill your business objectives.