Are you in a B2B firm operating in the education sector? Then what's your primary goal? It's to provide targeted institutions with the right solutions, like tutoring, classes, and software.
However, whatever your solution, how do you ensure it reaches the right academic institutions? You need to find the decision-makers in these places.
But this is a tricky undertaking. Most of the time, locating elusive decision-makers is akin to finding a needle in a haystack. Therefore, to make the job easier, you need connections.
It is where lead generation tools come into play. They're your reliable partners, ready to take on the heavy lifting.
These tools streamline the process, ensuring your educational solutions land on the proper desks at the right time.
For instance, Revnew stands as your top-tier education lead generation partner. Our distinct approach ensures:
Supplying you with leads driven by intent
Exclusively delivering tailored and authenticated prospects
Ensuring your product makes its way directly into the hands of decision-makers
Empowering you to extend your influence to a broader pool of potential customers
Now that you understand the importance of lead generation tools, let's check out our chosen 10 for driving leads to your educational business:
10 Lead Generation Tools for Your B2B Education Business
Here's our checklist of the 10 top lead-generation tools designed to fuel your educational company's growth and success.
1. LinkedIn Sales Navigator
Impressively, 89% of B2B marketers utilize LinkedIn for lead generation, with 62% experiencing success in obtaining leads.
LinkedIn's Sales Navigator tool now enables you to take your B2B networking to even more heights.
It lets your business target prospects precisely, keep tabs on leads, and initiate conversations with potential buyers – through InMail Messages and TeamLink.
Key Features:
Lead and Company Search Tools: You can easily find and connect with your desired leads and companies, streamlining your outreach efforts.
Automated Lead Recommendations: LinkedIn Sales Navigator takes the guesswork out of lead generation. How? It does so by suggesting potential leads based on your preferences.
CRM Integration: It allows you to integrate your LinkedIn activities seamlessly with your CRM (Customer Relationship Management) system. Thus, it leads to efficient lead management.
What Sets It Apart?
Custom Lead and Account Lists: LinkedIn Sales Navigator empowers you to craft and automate tailored lists of leads and accounts. Therefore, it ensures your outreach is highly targeted and effective.
2. Leadfeeder
Did you know? Most marketing automation tools capture only 2% of your website visits as the users need to fill out forms – so that you get any data about them.
This is where Leadfeeder steps in as your trusty sales and marketing companion. It excels at identifying your website visitors, even those who don't fill out forms or reach out to you directly.
With a rich database of static and dynamic IPs, Leadfeeder goes the extra mile by providing contact information for company employees.
Key Features:
Automatic Lead Scoring: Leadfeeder takes the guesswork out of lead prioritization, ensuring you focus on the most promising prospects.
Instant Lead Generation: Its tracker delivers real-time lead generation, keeping you in the loop when potential leads visit your site.
Personal Email Alerts: You can stay informed with timely email notifications about website visitors.
CRM Automation: Leadfeeder streamlines your CRM tasks, making lead management a breeze.
What Sets It Apart?
Data Capture from Website Visitors: Leadfeeder transforms anonymous web traffic into actionable leads, helping you make the most of every visit.
Custom Segmentation: Its custom segmentation features empower you to pinpoint high-quality leads precisely. It guarantees that your efforts are focused where they matter most.
3. ActiveCampaign
70% of the buying experience is based on how the customer is treated. Hence, building meaningful customer connections is vital. Only then you can transform leads into loyal, long-term clients. And ActiveCampaign streamlines the process by offering an automated CRM platform.
Key Features:
Unified Lead Data: ActiveCampaign brings all your lead data into a centralized platform. Hence, it facilitates seamless collaboration between your marketing and sales teams.
Pipeline Management: It assists in managing your sales pipeline efficiently, ensuring you never miss a follow-up or lose sight of a potential deal.
Segmented Email Campaigns: You can create highly targeted and personalized email campaigns by effortlessly segmenting your audience.
Fresh Deal Tracking: It keeps deals focused by tracking their progress, ensuring nothing slips through the cracks.
What Sets It Apart?
User-Friendly Interface: ActiveCampaign boasts a user-friendly interface that makes navigating the platform a breeze.
Cost-Effective: Despite its powerful capabilities, ActiveCampaign remains cost-effective, making it accessible for businesses of all sizes.
4. HubSpot Marketing Hub
HubSpot Marketing Hub is designed to guide you through your entire marketing journey. This journey includes everything from attracting potential leads to engaging them and, ultimately, converting them.
Key Features:
Lead Capture Tool: You can easily capture and manage leads, ensuring a growing audience for your business.
Forms and Popup Forms: HubSpot Marketing Hub allows you to create customized forms and popups to collect valuable data and insights from your target audience.
Live Chat and Chatbot: You can engage potential leads in real-time conversations, providing instant support and information.
What Sets It Apart?
Email Builder: You can craft and send visually appealing and personalized emails, making your communications stand out.
Integration with HubSpot CRM: You can seamlessly unify customer relationship management and marketing efforts. As such, it streamlines your workflow for greater efficiency.
Abhishek Shah, Founder of Testlify, also attests to HubSpot Marketing Hub. He says:
"Education businesses benefit from tools that allow personalized outreach. CRM systems like HubSpot enable tailored communication with prospects."
5. Lead Forensics
If you find that despite driving significant traffic to your website, your conversion rates are lower than desired, it's time to take action.
This is where you can take the help of Lead Forensics. It generates instant data about your website visitors via their IP addresses. This information reveals the companies they work for.
Key Features:
Sales Team Alerts: With valuable information about your site visitors, you can promptly alert your sales team to engage with the most promising leads. You can ask them to establish targeted connections via platforms like LinkedIn or email.
Increased Conversion Potential: By reaching out to these leads who are already familiar with your business, you significantly boost your chances of converting them into customers.
What Sets It Apart?
Custom Costing: There's no one-size-fits-all pricing for Lead Forensics. However, their tailored packages ensure you receive a customized solution for your business needs.
6. Intercom
Conversational marketing is a powerful approach to pique interest and gather feedback from your core audience. Approximately 69% of consumers favor conversational marketing chatbots for quick contact initiation.
If you use Intercom, you can take such interactions up by several notches. You can chat in real-time with leads who visit your website.
Key Features:
Rules of Engagement: The intercom empowers you to set specific rules for when messages should appear.
For instance, messages can be triggered when a visitor spends a certain amount of time on your pricing page or when they return to your site for a second time. This rule-based approach enhances the relevance of the message.
Visitor Behavior Segmentation: You can use visitor behavior data to segment your messages effectively. Thus, it ensures your communication resonates with different audience segments.
Information Collection: Intercom helps you collect valuable customer information during these conversations, enriching your lead profiles.
What Sets It Apart?
Custom Bots: You can deploy custom bots to respond quickly to customer inquiries, enhancing their experience with quick answers.
Email Follow-up: You can also foster continued engagement with an email follow-up feature. It makes sure your leads remain interested and informed.
7. MobileMonkey
Smartphones are everywhere; now, you can tap into this ubiquitous presence to connect with your customers. Why not communicate with them through text messages?
MobileMonkey empowers you to do just that by providing a direct channel to target leads via mobile devices and messaging platforms.
Key Features:
SMS Promotion Tools: MobileMonkey equips you with powerful SMS promotion tools to reach your audience where they are, on their mobile phones.
Surveys: You can gain valuable insights from your audience through surveys, allowing you to tailor your approach effectively.
Integration Options: You can seamlessly connect your MobileMonkey campaigns to top-of-funnel channels like blogs and social media, extending your reach and impact.
NOTE: Social media integration is critical. You must generate excitement about your offerings to attract a broader audience. Social media provides an ideal platform for hosting interactive discussions that lead people to visit your website and stay informed about your latest updates.
As reiterated by Matthew Ramirez, Forbes 30 under 30 Entrepreneur:
"Sharing relevant content on your social media channels is one way to generate B2B leads. But don't forget to ask questions to spark discussions. Asking questions helps you gather valuable insights about your target audience's needs and concerns."
What Sets It Apart?
Automated Engagement: MobileMonkey simplifies engaging and re-engaging with your contacts and leads. It helps you maintain meaningful interactions effortlessly, saving you time and resources.
8. Outreach.io
Account-based sales strategies can enhance your nurturing campaigns by targeting specific companies based on highly refined buyer personas. In fact, a well-defined ABM approach can increase revenue by 208%.
Outreach.io emerges as a valuable tool for managing your entire account-based sales process. It is particularly helpful when integrated with data-enrichment tools like Hull.io, which provide deeper insights into your prospects.
Key Features:
Sales Dialer: Outreach.io offers a sales dialer for direct communication with prospects, facilitating quick and meaningful conversations.
Real-time Enablement: You stay updated with real-time insights and engagement opportunities, ensuring timely and relevant interactions.
Email Sequences: You can craft and automate email sequences to nurture leads effectively.
Sales Engagement: Personalized and targeted communication helps foster engagement with your leads.
Task Management: It lets you stay organized by managing lead outreach and follow-up tasks.
What Sets It Apart?
Tracking: You can monitor lead interactions and engagement to measure campaign effectiveness.
AI-driven Reports: Outreach.io generates artificial intelligence-driven reports – for you to gain actionable insights for continuous improvement.
9. AeroLeads
AeroLeads is a versatile outbound prospect generation program that simplifies finding personal and business contact information.
Key Features:
CRM Integration: AeroLeads can integrate seamlessly with your preferred CRM, ensuring that your prospecting efforts are streamlined and your lead data is organized.
Chrome Extension and Plugin: AeroLeads has a Chrome extension and prospecting plugin. They simplify the task of finding phone numbers and email addresses while browsing platforms like LinkedIn, CrunchBase, and AngelList.
Data Validation: Regular data validation ensures the information you access is up-to-date and accurate.
What Sets It Apart?
Extensive Database: With over 650 million emails, AeroLeads offers a wealth of contact information to enhance your lead generation efforts.
10. Zapier
Dealing with repetitive tasks is time-consuming and highly inefficient, especially when juggling dozens or hundreds of SaaS tools. Enter Zapier, your time and tech stack savior!
Key Features:
App Integration: Zapier acts as the bridge, connecting your diverse range of apps and allowing them to work harmoniously.
Automation Simplified: It simplifies the process of automating tasks, freeing you to focus on innovating and improving your processes.
No Technical Expertise Needed: You don't need to be a tech guru to make the most of Zapier's capabilities.
What Sets It Apart?
Free Starter Plan: You can get started with Zapier at no cost, making it accessible for businesses of all sizes.
Lead Gen Tools Vs. Lead Generation Partners: What Should You Choose?
Before answering this question, let's first define the differences between the two: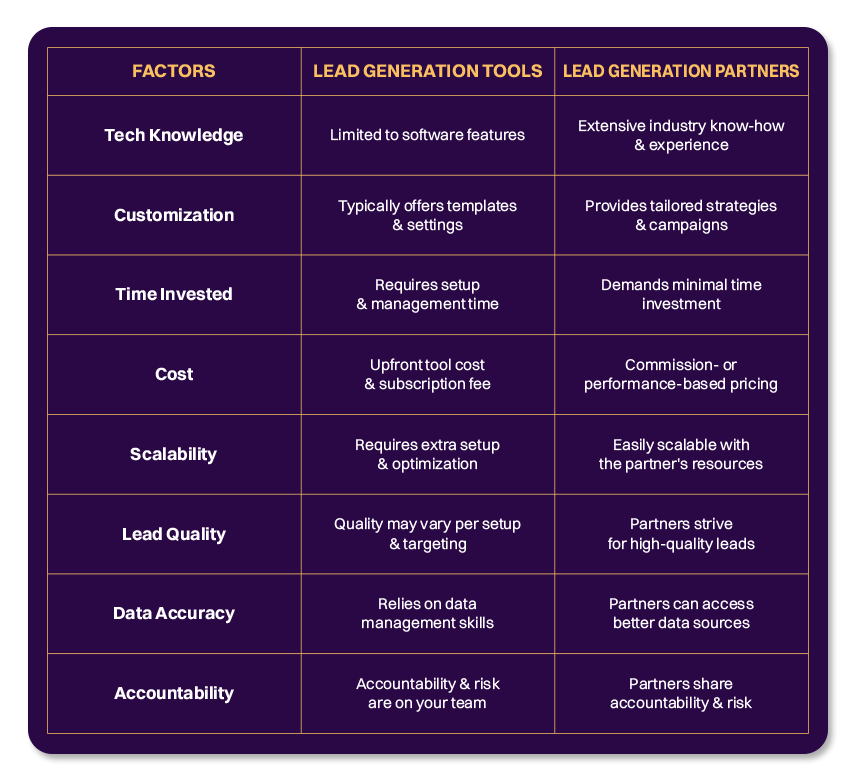 Now that you know the differences and are still in a dilemma, we recommend you partner with a reputable education lead generation provider instead. Reputed partners like Revnew can save you from the headaches of hiring, training, and managing tech experts – resulting in more cost savings.
Lead generation tools are suitable for businesses with the expertise and resources to manage and optimize them effectively. On the other hand, lead generation partners offer a more hands-off and specialized solution. Your final choice will be defined by your budget, time constraints, and the level of in-house expertise.
It can be challenging to rely solely on technological tools when you don't have a team with the necessary technical expertise. In fact, in such scenarios, depending on these tools can prove to be a costly mistake. You must understand these tools' limitations to determine whether they are an apt investment for your educational firm.
Wrapping It Up
Well, that's a wrap! We hope we have given you the right insights on choosing lead-generation tools for your education business. However, keep in mind that they can be expensive without the proper resources in hand. If that's the case, consider our alternative of picking a lead generation provider. Should you have any questions, you can contact our experts at Revnew. We are forever ready to guide you.