Among others, one of the ways you can thrive in your business is by using lead generation techniques. It'll do two things for your business:
1. Improves the overall sales
2. Increase the customer base
However, with multiple options, deciding which lead generation technique to adopt can be daunting.
In fact, around 68% of marketers accept that lead generation is their biggest challenge. However, nothing can stop you from gaining positive results once you find the proper technique(s).
So, let's check out our curated B2B lead generation techniques. These techniques will help you with your sales and establish a positive brand image as well.
But, before we'll walk you through the lead generation process.
What Is B2B Lead Generation Process?
The first thing to understand while defining lead generation techniques is what exactly lead generation is all about. In the simplest terms, lead generation is:
Searching for prospective clients
Nurturing those prospects
Converting them into customers by offering services that match their needs
You can effortlessly connect with your future clients with the right lead-generation efforts. Thus, it boosts your profit potential consistently.
Here's the list of top lead generation processes you must know:
1. Identify Your Target Audience
The first step is knowing the target audience. It will include knowing their:
Age
Gender
Preference
Interest
Pain points
These details help you place your product or service rightly in front of your prospects. Additionally, you can draw your audience's core needs through these details.
2. Create A Compelling Offer
If you want your clients to notice your services, offer them something of value. It could be anything that they need or something that entices them, such as:
A free product or service trial
An E-book
A whitepaper
A thought leadership article
Once your target leads show interest in your offering, ask their contact information in exchange.
Once you get their contact data, you can nurture those leads and move them further in your sales funnel.
3. Qualify Leads Based On Interest And Fit
Based on the information gathered, you can identify the interest level at which your lead is currently.
Say if a lead is ready for the demo or wants to discuss terms of your service, the chances of the lead getting converted is high. So, now you need to weigh all the details and position leads in the ascending conversion orders.
4. Nurture Leads Via Different Forms Of Communication
Once you have the leads in ascending order, it's time to nurture them and increase the chances of closure. This is when you would need to nurture the leads with the help of different mediums, such as:
Email campaigns
SMS
Demos offers
Sales phone calls
Some of the tips to nurture leads via emails are:
Personalizing your emails with the lead's name and relevant information.

Segmenting your email list based on demographics or behavior for targeted messaging.

Sharing content that focuses on their minor and major issues and offers ideal solutions.

Using automated email sequences to deliver a series of relevant messages over time.

Gradually introduce promotional content as the relationship with the lead develops.
Additional tips for nurturing the leads via the communication channels are:
SMS: Use SMS for personalized messages and offers.
Phone Calls: Offer demos or phone calls for personalized guidance.
Social Media: Engage leads through social media platforms.
5. Close The Sale With A Solid Offer
Once you find that 7 out of 10 leads are potential hot leads, try to customize your service to meet the needs of their business. This way, you can boost their chance to purchase from you.
Here are quick tips on how to customize your service to meet the needs of potential hot leads and close the call:
Understand the lead's pain points
Personalize the solution
Showcase benefits and features
Offer flexible pricing options
Highlight success stories
Provide rewards and incentives
Address objections empathetically
Reiterate value proposition
Secure the sale based on customization
6. Measure And Optimize Your Lead Generation Efforts
You must continue to evolve your lead generation strategies. All you need to do is regularly monitor and improve your methods.
Doing so lets you find loopholes in your lead generation efforts. Thus, you can work out to resolve them on time. Here are some tips you can use:
Keep refining your approach.
Explore new channels.
Test different lead generation tactics to find the best ones.
Remember, consistent improvement and monitoring are crucial to maintaining a solid position in the market and attracting valuable leads for your business.
But from where will you have these leads generated? Let us learn about the top 10 outbound lead generation channels.
Top 10 B2B Lead Generation Techniques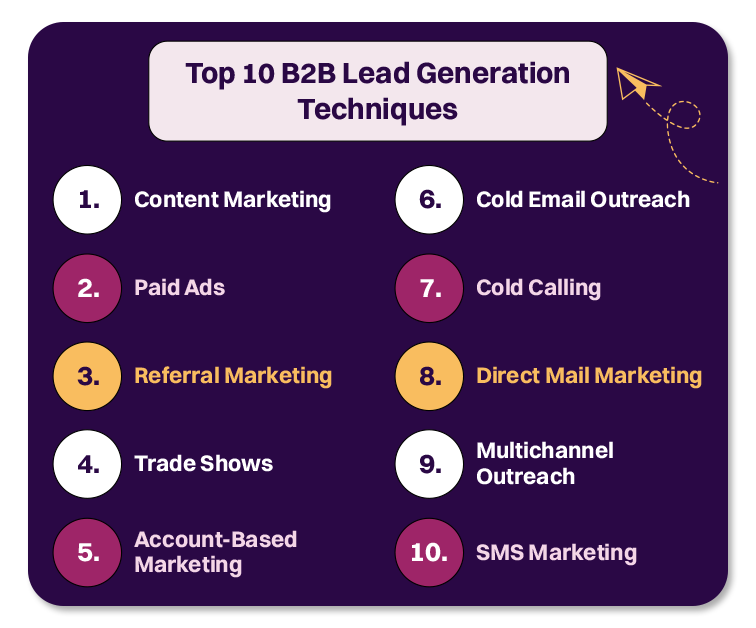 There are many sales lead gen techniques through which you can generate a list of prospects that can be converted into positive sales.
Among those, here are the top 10 lead generation techniques you should know about. In fact, try to incorporate the below given lead generation techniques into your organization.
1. Content Marketing
With the growth of digital marketing, the need for content that can connect with the customer is increasing rapidly.
Thus, produce content that's relevant and helpful to your audience. Once you start sharing such content regularly, you establish yourself as a thought leader. Further, it builds trust within potential customers.
Additionally, content marketing lets you capture leads' contact information and nurture them over time.
Here is a list of content types for effective outbound content marketing in B2B lead generation:
Blog posts
Whitepapers
Case studies
E-books
Infographics
Videos
Webinars
Podcasts
Social media posts
2. Paid Ads
You can't deny the power of social media and search engine marketing (SEM) in the case of inbound lead generation. The number of users available on social media platforms is vast. They can potentially become positive clients and generate income for your business.
With paid advertising, you can target particular audiences based on their demographics, interests, and behaviors. Hence, you can increase your chances of connecting with the right audience. Also, with the proper lead generation techniques, you can create ads that:
Effectively communicate your value proposition.
Attract high-quality B2B leads.
Target their major pain points, etc.
3. Referral Marketing
The publicity and leads you can gain with word of mouth are unmatched in this competitive environment, giving rise to referral marketing. In fact, referred clients can bring around 25% more profit to your business.
Also, this is an outbound lead generation strategy where the leads are generated based on your:
Goodwill
Quality of services
Product superiority
Brand value as perceived by your existing users
To succeed in referral marketing, build strong relationships with your existing customers. Plus, deliver exceptional customer service to them. Doing so lets you get unpaid brand ambassadors who are happy to spread the word about your business. Thus, you can drive new leads your way.
4. Trade Shows
One of the best B2B lead generation techniques is participating in niche industry events and trade shows. These events allow you to showcase your services to people who may be seeking solutions that you provide.
Additionally, you get to network with other businesses. Thus, chances of potential future partnerships or collaborations increase. This type of networking group benefits your business in the long run.
5. Account-Based Marketing
No one can deny the importance of account-based marketing plans regarding outbound lead generation techniques. Account-Based Marketing (ABM) is a targeted approach for outbound lead generation focusing on personalized marketing for specific accounts or customers.
Further, it helps you to identify and focus on key accounts, aligning sales and marketing efforts and creating a personalized approach to each account.
With ABM, you can:
Build better relationships with prospects
Increase the chances of conversion
Maximize the ROI of your marketing efforts
To stay ahead in this highly competitive environment, its important to use ABM. Thus, you must stand out in a crowded marketplace.
This is where ABM allows you to tailor your approach to each account and improve your lead quality. Thus, it helps you receive better business outcomes from those who don't use ABM.
6. Cold Email Outreach
Cold emailing is one of the most commonly used strategies to generate leads. You can easily reach your potential customers through outbound emails without having any prior connection to them.
Additionally, it lets you promote your offerings most cost-effectively. The best part is you personalize these emails to make them more convincing to recipients.
However, ensure the email is well-crafted, personalized, and not too salty to avoid being marked as spam. Furthermore, following up after sending the initial email can significantly increase your chances of converting the lead.
However, cold emailing requires a systematic approach. Thus, you must get a keen understanding of your target audience before using this lead generation technique.
7. Cold Calling
Like cold email, cold calling is also one of the lead generation techniques. In a cold email, you connect with the prospective client via email. In cold calling, the idea is to connect with prospects over the call for a better and more substantial impact. .
Cold calling can also help build a personal relationship with clients by better understanding their needs. Thus, it ultimately leads to a positive outcome.
However, having a well-planned script and strategy is essential to ensure a successful cold call.
Some of the pro tips to follow are:
Research prospects' industry and pain points.
Craft an attention-grabbing introduction.
Communicate your value proposition.
Give leads options to share their opinions on your service.
Listen actively and address concerns.
Provide relevant solutions.
Create urgency and highlight benefits.
Maintain a confident and enthusiastic tone.
Personalize your approach.
Define the next steps and follow up.
Additionally, follow-ups and nurturing relationships with potential clients are crucial to turning them into positive sales leads.
8. Direct Mail Marketing
Direct mail marketing entails mailing promotional materials to leads and potential customers via postal service. You can utilize it in your sales lead generation techniques to get in front of your target firms' decision-makers.
Despite the rise of digital marketing, direct mail marketing still has a place in B2B lead generation because it may be more personalized and tactile.
Here are some examples of things you can include in your direct mail:
Personalized letters or messages addressing the recipient by name.
Brochures or pamphlets highlighting products or services.
Industry-specific research reports or studies.
Case studies showcasing successful client partnerships.
Discount coupons or promotional offers.
Invitations to exclusive events or webinars.
Samples or product demonstrations.
Surveys or feedback forms to gather valuable insights.
QR codes or personalized URLs for easy online engagement.
Testimonials from satisfied customers.
You may track response rates with direct mail and utilize the information to make future initiatives even better.
9. Multichannel Outreach
Multichannel outreach is one of the most powerful outbound lead generation techniques. It enables you to leverage various communication channels and connect with potential clients in multiple ways.
With this approach, you allow potential leads to interact with your brand through their preferred channels.
By using different channels, you can also increase brand recognition and credibility. This also improves the business visibility and helps in customer base improvement as well.
It can create a sense of trust and legitimacy, which is critical for B2B lead generation techniques.
Here are some quick tips for creating effective multichannel outreach:
Define your target audience.
Maintain consistent branding across channels.
Adapt your content to suit each specific channel.
Connect and cross-promote your channels for increased visibility.
Personalize your outreach efforts to resonate with your audience.
Monitor and analyze the performance of each channel.
Test different strategies and optimize based on results.
Share valuable content to build trust and credibility.
You can keep your target leads engaged with a well-planned multichannel outreach strategy.
10. SMS Marketing
Last but not least is SMS marketing. It's a standard sales lead generation technique that involves sending promotional messages or alerts to potential customers via text. In fact, it is another low-cost technique to reach your audience.
SMS marketing can be particularly effective when targeting decision-makers who are always on the go. They usually don't have time for lengthy phone or email conversations.
However, ensuring your messages are relevant, targeted, and not overly intrusive is vital to avoid potential negative reactions from prospects.
Conclusion
Lead generation strategies are the base for any business to gain sustainable profit. In fact, you can reach a wider audience and generate more leads by implementing various lead-generation techniques. These techniques range from content marketing and paid advertising to multichannel outreach.
But developing the sales lead can be time-consuming. Also, if you are unaware of the do's and dont's there are chances that the strategy will fail to deliver the potential result. That's why partnering with a lead generation expert like Revnew can help you maximize your efforts and achieve your sales goals.
Revnew is your solution to optimizing your lead generation, revenue growth, and obtaining appointments with decision-makers. Reach out to us to see how our expertise in sales automation, email marketing, and lead scoring can streamline your process.