Are you ready for a mind-blowing stat? Brace yourself! With over 900 million members and counting, LinkedIn is the world's largest professional network. That's right! In short, LinkedIn is a powerhouse of B2B marketing tools and opportunities. Now. if that's not enough to convince you of the importance of LinkedIn B2B marketing, consider this:
According to a recent survey, 92% of B2B marketers use LinkedIn

as part of their content marketing strategy.
Plus, as per the same source, 66% of companies have acquired a new customer through LinkedIn. And it's not hard to see why.
LinkedIn's targeting options, content capabilities, and lead generation features make it a must-have tool for any B2B marketer.
But with so many different options available, it can be overwhelming to know where to start. That's where this guide comes in. We've done the research and testing for you. We'll explore the best LinkedIn marketing tools and explain how to leverage their power to drive business growth.
So sit back, grab a cuppa, and let's dive into the world of marketing tools on LinkedIn. We promise you won't be disappointed.
However, before we break down the tools that'll help you nail your profession as a marketing professional, let's get a few basics right!
How LinkedIn Is Used for B2B Marketing
Let's answer this question with a few stats:
80% of B2B leads

come from LinkedIn.
78% of B2B marketers believe it's the most effective social media platform to achieve specific objectives.
But what exactly does LinkedIn marketing entail?
It's all about making meaningful connections, generating high-quality leads, and building strong business relationships.
Additionally, LinkedIn has features like analytics, connections, and brand-building tools. Thereby, the possibilities are endless. It doesn't matter whether you're a seasoned LinkedIn pro or just starting out. LinkedIn helps you gain the maximum outputs from your B2B marketing efforts.
Hence, from sharing content to driving traffic, unlock the full potential of LinkedIn marketing tools NOW!
Why Is LinkedIn B2B Marketing Important?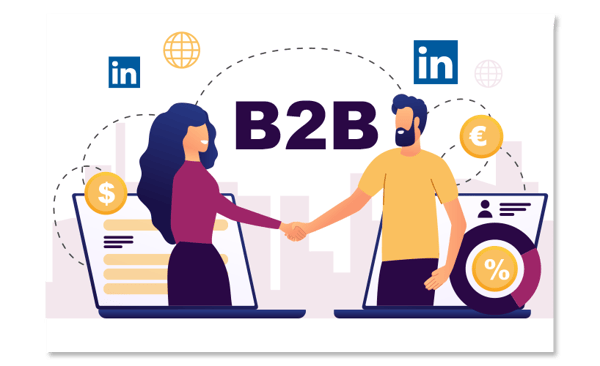 It's understandable to focus your social media marketing efforts on popular platforms like Facebook, Instagram, and Twitter. However, neglecting LinkedIn is a major blunder! It's the world's largest professional network. Plus, it houses a massive chunk of your target audience. Thus, it's the perfect platform for connecting with decision-makers and generating high-quality leads.
Again, in today's hyper-competitive marketplace, it's critical to have a strong online presence. And LinkedIn is the perfect platform to help you do just that. What's more? LinkedIn is 227% more effective at generating leads than Facebook and Twitter.
So, by excluding tools for LinkedIn marketing from your promotional strategy, you miss out on a massive opportunity to grow your business. Also, you fail to establish valuable professional relationships.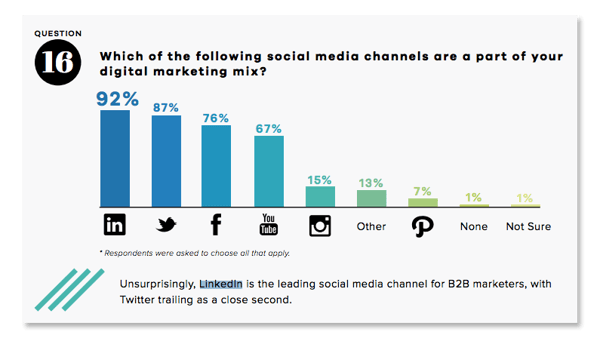 Source
Now, you already know that numbers speak louder than words. So, were we able to convince you? If yes, it's time to get on board and start reaping the rewards.
How to Promote Your B2B Business on LinkedIn?
By now, you must have gained clarity on this fact – LinkedIn is the perfect platform to promote your B2B business on social media. It provides an exciting combination of advertising, sponsored posts, InMail for direct communication, and industry groups.
The platform is also perfect for designing your ideal LinkedIn Marketing Strategy.
Why?
Because of its detailed audience profiling algorithm!
In fact, from LinkedIn company page promotion to lead generation, the platform offers everything you need to make the most of your B2B marketing efforts.
It also offers functions for post engagement (shares, comments, likes) and skill endorsements. Now, the most successful businesses use a mixture of all these LinkedIn tools for marketing to supercharge their sales. Keep reading to find out what are the best LinkedIn marketing tools for promoting your B2B company.
Top 8 LinkedIn Marketing Tools for B2B Companies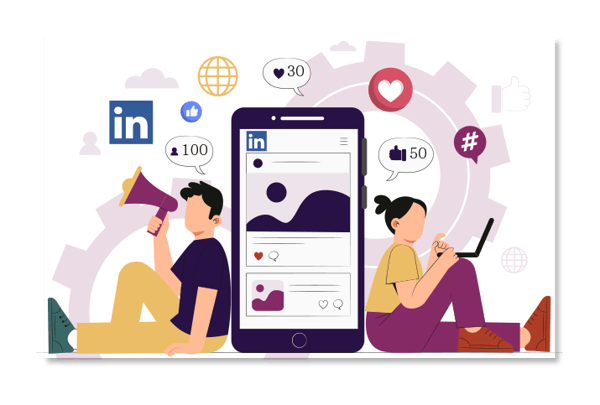 LinkedIn offers a plethora of B2B marketing tools to help your business build brand awareness, generate leads, and ultimately boost sales. To help you out, we've compiled a list of the best LinkedIn marketing tools.
They're guaranteed to take your marketing efforts to the next level. Whether you're looking to promote your company page, generate leads, or engage with your audience, these tools have got you covered!
1. LinkedIn Search Option and Filters

Identifying your precise target persona on LinkedIn can be a challenging task. After all, there's a multitude of filters on the platform. You also need to overcome constraints and face the absence of exporting options.

However, we have done our research in exploring numerous strategies to locate our ideal customer profile (ICP) on LinkedIn. So, let's explore how you can use the Advanced Search option on LinkedIn for prospect outreach.

Suppose you're a B2B marketer seeking potential partners interested in ed-tech. Here's how you can access various search categories on LinkedIn:

Log in to your LinkedIn account.
Locate the search box in the top left corner.
Enter your keyword (ed-tech) – which can be related to the title, summary, or experience of your ICP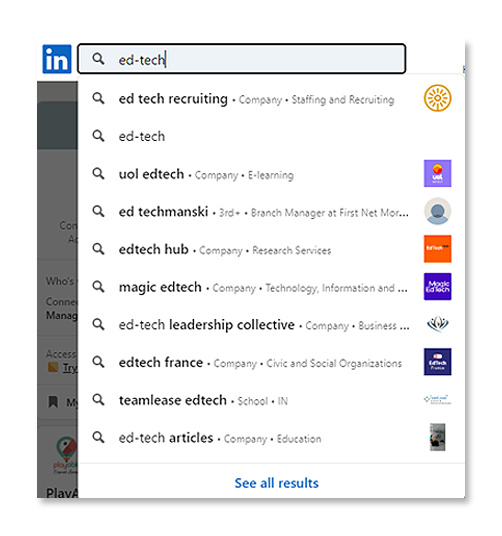 Click on "See all results" at the bottom of the dropdown menu.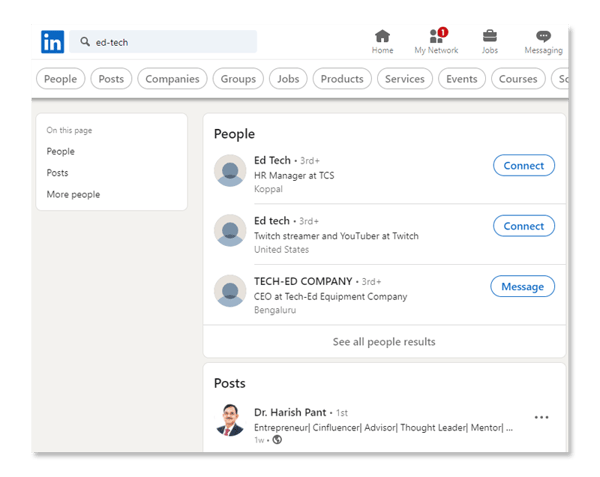 Search By People
Next, to refine your search results and find people related to your keywords, you can use the "People" filter.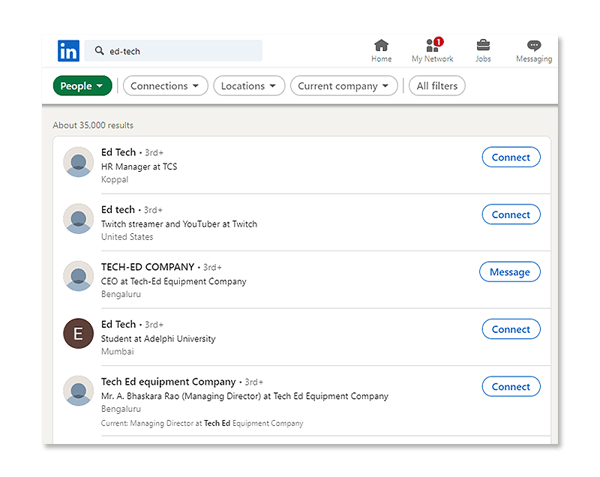 However, it's important to focus on quality over quantity.
For example, your ideal customer persona is located in the US. They should have worked in an ed-tech company in a director-level role for at least 5 years.
To narrow down your search:
Click on the "All filters" button located in the top right corner.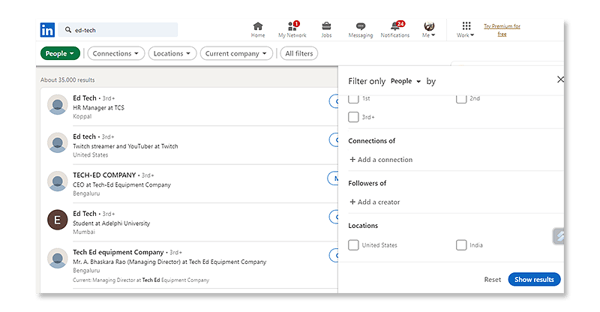 From the new dashboard, you can filter your results by various categories such as type of connections, location, current or past company, industry, school, profile language, and more.
To find your targeted audience, use the "Locations," "Profile language," and "Industry" filters. And you'll get a more curated list: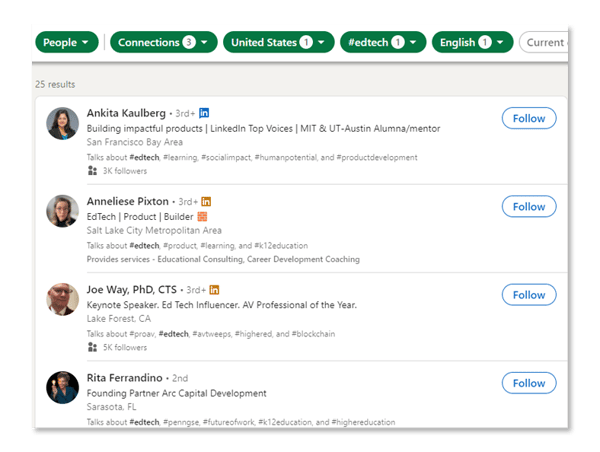 Search By Name
Let's say you met Eva Watson, a founder, at a conference a few months ago. But you only remember her name and that she works for a company based in San Francisco. So, how can you locate her on LinkedIn?
There are two possible scenarios when it comes to searching by name.
If you have both the first and last names of the person you're looking for, simply enter their full name in the search bar.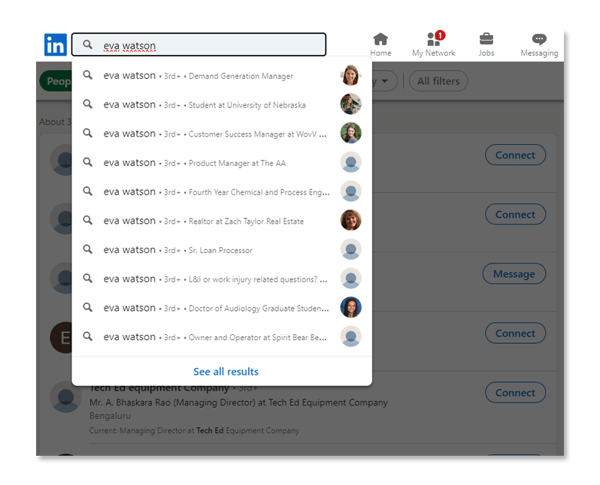 If you only have partial information, such as a first name or job title, you can combine those keywords to refine your search. For example, you could search for "Eva + founder + San Francisco" or any other relevant information to help locate her profile.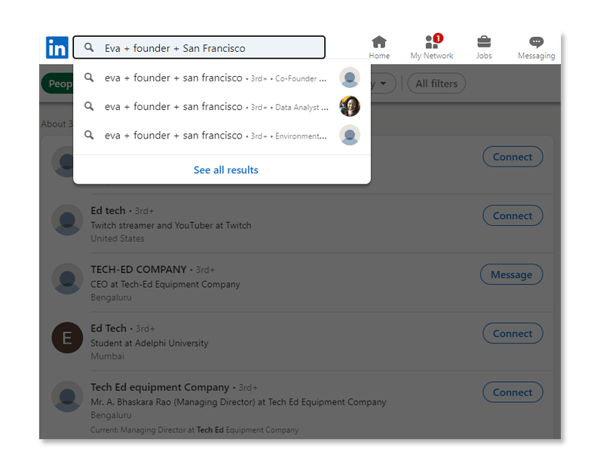 Search By Email
Finding someone's LinkedIn profile by only knowing their email address can be done using Microsoft Outlook and LinkedIn accounts. Here's how:
Log in to your Microsoft Outlook account and go to the "People" section.
Click on "New Contact" and fill out the information you know about the person (including their email address).
Choose "Create" to access the Contact dashboard.
In the "Add contact" window, insert the person's email address.
On the new dashboard, select the "LinkedIn" tab and follow the instructions to link your LinkedIn account to Outlook.
Go back to your Outlook account and you should now be able to see the person's LinkedIn profile.
Search By Company
To find new prospects/competitors, you can search for employees of targeted companies on LinkedIn. For example, if you're a Marketing Manager searching for ed-tech companies located in the US with specific employee and revenue ranges, you can follow these steps:
Narrow your search to the "Company" category on LinkedIn.
Choose the "All filters" option to access additional search filters.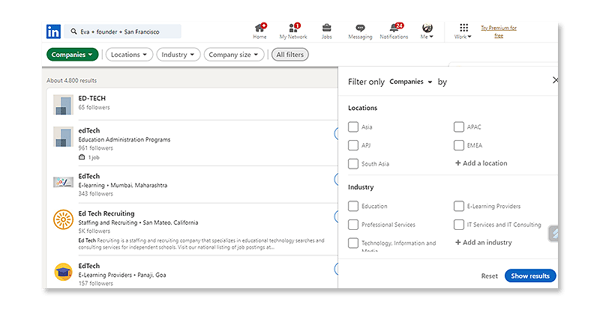 Select filters such as locations, industry, company size, job listings on LinkedIn, and connections.
By using filters such as "Industry", "Locations", and "Company size" in your basic LinkedIn account, you can access over 20,000 matching companies.
Search By Hashtags
LinkedIn hashtags can significantly boost users' visibility by making their posts discoverable to anyone searching for or following the hashtag.
For instance, if you are a freelance copywriter offering blogging services to SaaS companies, you can search for hashtags that your potential clients might use, such as #SaaS, to access relevant content on the same topic.
2. LinkedIn Ads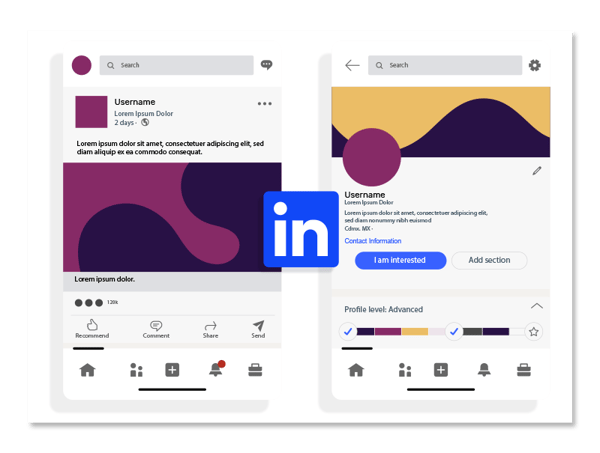 Are LinkedIn Ads effective for B2B companies?
Well, the answer is a no-brainer! With LinkedIn Ads, you can create highly targeted ads to reach your desired audience. They allow you to target users based on various criteria.
Some of them include – job title, company, industry, location, and more.
Additionally, LinkedIn Ads provide you with detailed analytics to help you track the performance of your campaigns. Now, to convince you further, here are 2 compelling LinkedIn B2B marketing examples of its ad performance:
That being said, let's dive into the 4 major LinkedIn Ad types –
Sponsored Ads
Dynamic Ads
Text Ads
Message Ads
We'll also illustrate one example per ad type, which showcases the impact of these LinkedIn B2B marketing tools.
Sponsored Ads
Sponsored Ads are a great way to highlight your content to a B2B audience. You can use them to promote your blog posts, whitepapers, case studies, and other valuable content. Your material is presented before people who're most likely to engage with it.
Additionally, Sponsored Ads are shown only in the main feed. They're similar to other channels in which ads blend into a user's personal feed. Sponsored Ads include the following:
Single Image Ads
Video Ads
Carousel Ads
Example: Kate Spade New York
Kate Spade New York used a single-image ad to promote its smartwatch and increase brand awareness among LinkedIn members. The advert showcased actress Busy Philipps donning the brand's watch.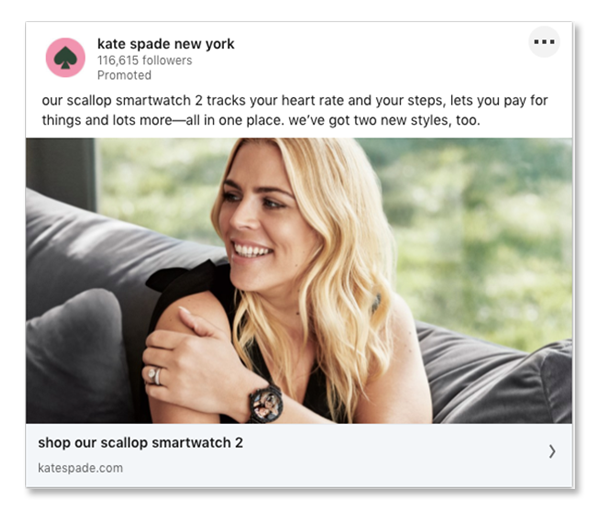 The ad received a 2.44% engagement rate and a 1.78% CTR, making it a successful campaign. In fact, the company's LinkedIn members generated the highest CTR among the four platforms used in the campaign.
Dynamic Ads:
Dynamic Ads allow you to personalize your ads for each user. As such, you can create different versions of your ad. Each option comes with customized messaging and imagery, depending on the user's LinkedIn profile information.
Hence, Dynamic Ads are particularly effective for account-based marketing (ABM) and lead-generation campaigns. They come in four formats and are popular for creating highly stylized ads: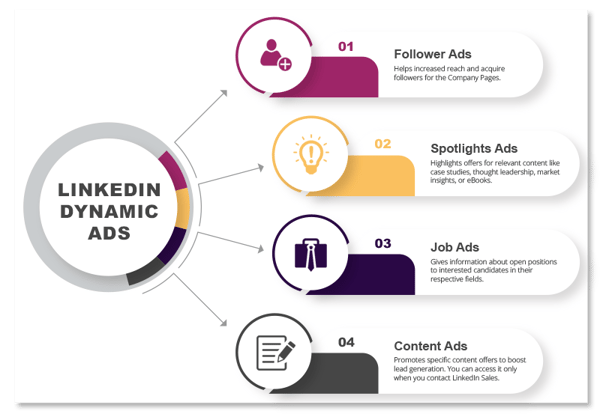 Example: NerdWallet
NerdWallet used Follower Ads to promote its "nerdy" company culture and attract top technology talent.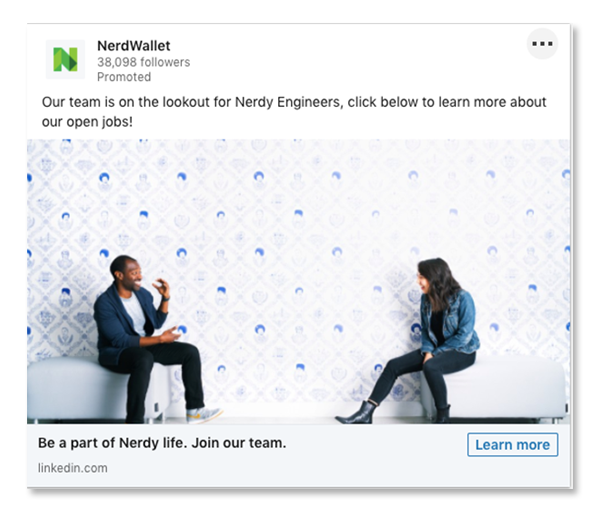 As a result, by using LinkedIn Pages and Follower Ads, they were able to showcase their company culture to potential employees and followers. They succeeded in directing LinkedIn members to their Careers Page, where jobs are posted. In short, the initiative was highly successful!
Text Ads and Message Ads
Text Ads on LinkedIn are visible on the right side of the main feed. Additionally, they feature a bold call-to-action (CTA) as a headline along with a supporting sentence. In fact, creating these ads is quite simple. Why? You can choose a target audience, and track leads easily.
In contrast, Message Ads are sent directly to a LinkedIn member's inbox. This allows you to communicate with leads without any character limit. You can also enhance the impact of your messages by incorporating features such as forms.
In fact, compared to an email inbox, LinkedIn Messages are less cluttered. Hence, these messages are more visible. You can also track who is engaging with and converting from your ads using the Conversion Tracker.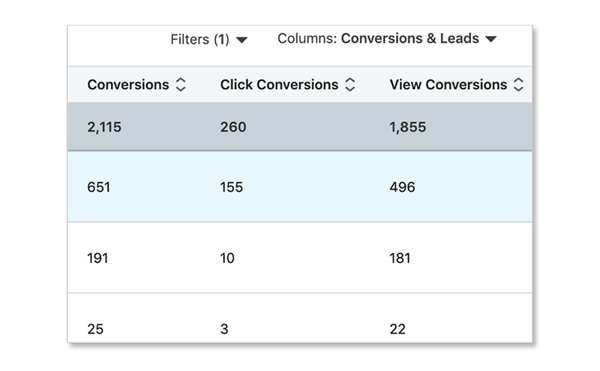 Example: Design Pickle and VistaVu Solutions
Design Pickle, a graphic design company, was able to generate over $1 million in revenue with Text Ads by targeting and retargeting specific audiences on LinkedIn.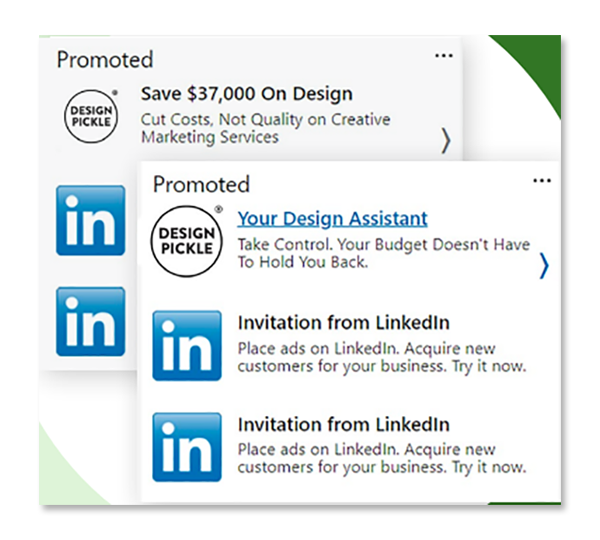 VistaVu Solutions, a B2B company, was able to improve brand awareness, generate leads, and increase brand credibility by using Message Ads to amplify its unique value proposition.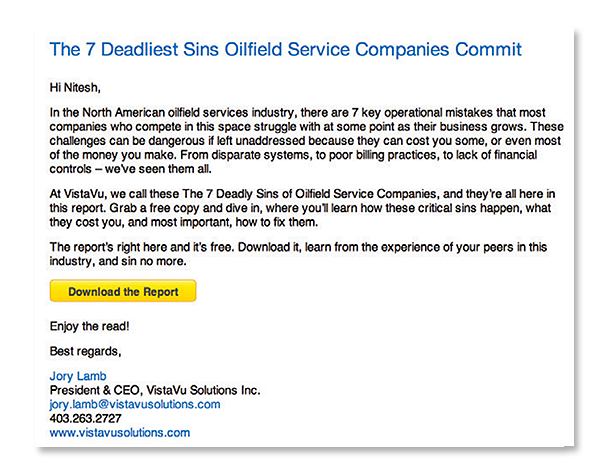 Both companies were able to achieve their goals by leveraging the unique targeting capabilities and features of LinkedIn's advertising platform.
So, what's the takeaway from these 4 examples?
LinkedIn provides a unique opportunity to promote B2B marketing through its various ad formats. Hence, choosing the right ad type and context is essential to reach your target audience effectively.
3. LinkedIn InMail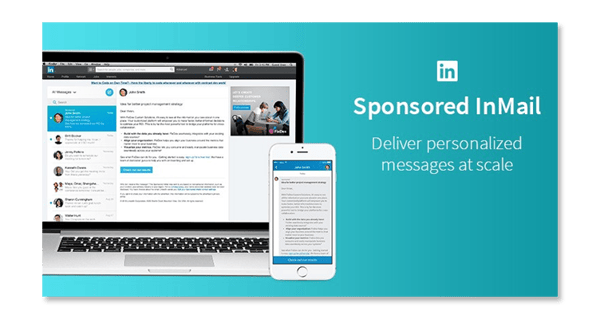 Source
InMail is an effective tool for B2B marketers. In fact, its response rate is three times higher than a regular email!
Why? InMail allows users to send personalized messages to other LinkedIn members – not in their immediate network or not connected to them. Hence, you can reach out to decision-makers directly. You needn't rely on other channels like email or social media.
Plus, to get the most out of InMail as a marketing tool, craft personalized and relevant messages. Your content MUST provide value to the recipient. However, never spam recipients. This can damage your reputation and result in negative consequences.
NOTE: LinkedIn provides users with data on the performance of their InMail campaigns. As a result, you can track the success of your outreach efforts and make adjustments as needed.
4. LinkedIn Pages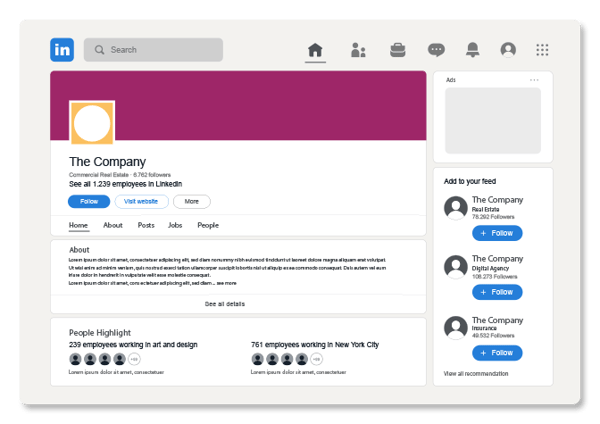 LinkedIn Pages are profiles for companies on the platform. They allow you to create an online presence, promote your brand, and interact with potential customers. Now, the primary types of LinkedIn Pages are Company Pages and Showcase Pages. Let's check out the primary features of both these page types.
Company Pages
Branding: Highlight your brand, mission, and values. Share your company story and showcase your products or services to potential customers.
Content Marketing: Share valuable and engaging content with your followers. This can include articles, videos, or infographics that your target audience will find relevant.
Talent Acquisition: Attract potential employees by showcasing your company culture and posting job openings.
Networking: Connect with other businesses, industry leaders, and potential customers.
Showcase Pages
Product/Service Marketing: Highlight a specific product or service. Share updates, news, and other relevant information with followers interested in that particular offering.
Targeted Marketing: Target specific audiences with tailored content and messaging. This is an effective way to engage potential customers and build brand loyalty.
Brand Extension: Extend your brand and highlight a specific aspect of your business that you want to promote to a wider audience.
5. LinkedIn Groups
LinkedIn Groups are online communities on the platform. Here, professionals can connect, share information, and engage in discussions related to a specific industry, interest, or topic. LinkedIn Groups are free to join and allow members to post articles, participate in discussions, and share insights with other group members.
As a tool for B2B marketers, LinkedIn Groups offer several benefits, including:
Networking: Connect with other professionals in your industry, build relationships, and expand your network.
Thought Leadership: Establish yourself as a thought leader in your industry and build credibility with potential customers. How? By sharing valuable insights and engaging in discussions.
Lead Generation: Engage in conversations with potential customers and share relevant content – to generate leads.
There are different types of LinkedIn Groups, including open, closed, and secret groups.
Open groups are visible to everyone on LinkedIn. Anyone can join and participate in the discussions.
Closed groups are also visible to everyone on LinkedIn. But members must request to join and be approved by the group administrator.
Secret groups are not visible to anyone on LinkedIn. Members must be invited to join.
To find and join relevant LinkedIn Groups, search for groups related to your industry, interests, or target audience. Once you join, participate in discussions, share industry insights, and connect with professionals. Be helpful rather than simply promoting your products/ services. Also, engage in conversations and build relationships with other group members.
6. LinkedIn Sales Navigator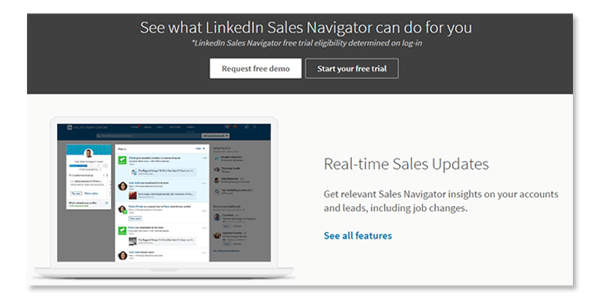 Source
This platform, designed by the social media giant itself, aims to connect buyers and sellers in a unique way. LinkedIn Sales Navigator offers a variety of features. But some of the most important ones include the following:
LinkedIn's advanced algorithm for finding prospects who align with your offerings
Sales insights to help you make informed decisions
Relationship-building tools to help you cultivate connections and move closer to closing a deal
Additionally, you can use lead recommendations and the various tools offered by Sales Navigator. As such, you can connect with and sell to each prospect more effectively. However, we can't give you 100% assurance that using Sales Navigator will skyrocket your LinkedIn B2B sales and revenue.
But it's certainly a worthwhile tool to explore. Plus, LinkedIn continuously adds new features to the platform. This gives users the confidence that their time spent with the tool is well-invested. So, if you're looking to boost your sales, consider giving Sales Navigator a try.
7. LinkedIn Plugins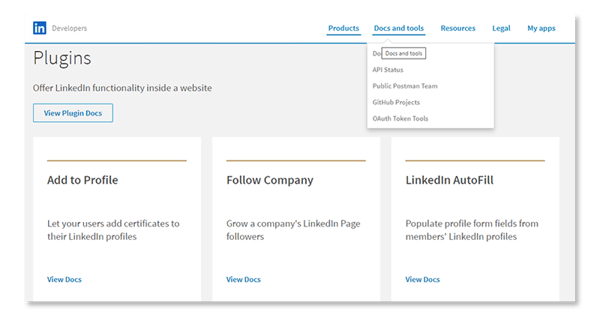 Source
Are you looking for a way to integrate LinkedIn features into your website? Consider using LinkedIn Plugins. Well, some companies may not view them as direct Linkedin B2B marketing tools for social selling or boosting sales.
However, Plugins can actually offer significant opportunities. For instance, you can share your company profile with visitors to your website to give them a better idea of your organization and its associated people.
Here are some of the LinkedIn Plugins available:
Share: Allows visitors to your website to easily share your content on LinkedIn.
Follow Company: Enables website visitors to follow your company's LinkedIn page.
Company Profile: Displays your company's LinkedIn profile on your website.
Member Profile: Displays a LinkedIn member's profile on your website.
Alumni Tool: Shows where LinkedIn members who attended the same school as you work now.
Company Insider: Shows LinkedIn members who work at a particular company and their roles.
LinkedIn AutoFill: Allows visitors to your website to quickly fill out forms using their LinkedIn profile information.
Jobs and Job Titles You Might Be Interested In: Displays job recommendations to website visitors based on their LinkedIn profile information.
Now, it's true that LinkedIn Plugins may not be the most active strategy for increasing sales. But they can work quietly in the background to provide your audience with additional information. Thereby, this can encourage prospects to contact you.
8. LinkedIn Analytics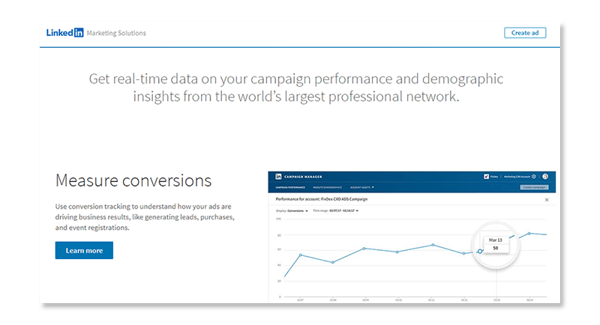 Source
LinkedIn Analytics is a set of tools that allow you to measure the effectiveness of your B2B marketing campaigns. By using analytics, you can gain insights into how your content is performing. You can also quantify who is engaging with it and how to optimize your campaigns to improve your results.
Additionally, by analyzing your data, you can determine which campaigns are working and which are not. Plus, you can identify areas for improvement and make data-driven decisions to enhance your promotional initiatives. Now, there are several analytics tools available on LinkedIn, including the following:
Page and Post Analytics
These tools allow you to see how your LinkedIn Company Page and individual posts are performing. The results are displayed in terms of views, engagement, and clicks. You can also see demographic information about the people who are engaging with your content.
Audience Insights
This tool provides information about the people who follow your LinkedIn Company Page. Moreover, you get information about these individuals, including their job titles, industries, and locations. Such details can help you tailor your content to your target audience.
Campaign Reporting
This tool allows you to see how your LinkedIn advertising campaigns are performing. Some of the metrics include – clicks, impressions, and conversions. Using this data, you can optimize your campaigns and improve your results. For example, you can:
Identify high-performing content and create more content like it.
Tailor your content to your target audience based on demographic information.
Adjust your advertising campaigns to improve performance based on campaign reporting.
Test different content formats, messaging, and visuals to see what resonates best with your audience.
10 Best Practices for Using LinkedIn Marketing Tools
When it comes to using the best LinkedIn B2B strategy for your marketing efforts, you can follow several best practices. However, here are our chosen few:
1. Post Relevant Content
It's critical to create and share information and engaging content that resonates with your target audience. This can include sharing industry trends and insights and creating how-to guides or tutorials. You can also share thought leadership pieces that showcase your expertise in your industry.
2. Make Use of the Analytics
As we have already mentioned above, LinkedIn Analytics allows you to track the performance of your content and campaigns. Use these insights to understand what's working and what's not. As such, you can optimize your strategy and improve your results.
3. Use Images and Videos
Visual content tends to perform better than text-only content on social media. And LinkedIn is no exception. Use eye-catching images to grab your audience's attention and embed videos to make your content more engaging.
4. Use Data to Find Your Best Time to Post
Experiment with posting at different times and use data to identify when your audience is most active and engaged. This can help increase the reach and engagement of your posts. You can also follow the 321 Rule for content posting.
What Is the 321 Rule in LinkedIn?
The 321 Rule is a strategy for posting on LinkedIn that suggests the following:
3 posts per week
2 pieces of curated content shared from others per week
1 long-form post or article per week
The idea behind the 321 Rule is to maintain an active presence on LinkedIn while also providing value to your network through a mix of original and curated content. By consistently posting and sharing valuable content, you can build your brand, establish thought leadership, and increase engagement with your audience on the platform.
5. Schedule Your Posts
Consistency is key when it comes to social media marketing. For instance, use one week to post about industry trends and one week about leadership. Keep one week about the personal experience of work culture and one week about industry knowledge.
Why? The LinkedIn algorithm detects the engagements are from a particular segmented audience. Then it's likely to promote your post to more people just like them.
6. Study other Company Pages
Take a look at the Company Pages of your competitors and other businesses in your industry. You can then see what's working for them. Use this as inspiration to improve your own strategy and stay ahead of the curve.
7. Optimize your Company Page for Search
Make sure your Company Page is fully optimized for search by including relevant keywords in your description and content. This can help improve your visibility and attract more followers.
8. Allow your Colleagues to Help You
Encourage your colleagues to engage with and share your content to help increase your reach and build credibility. This can also amplify your brand's voice and improve your overall social media presence.
9. Explore LinkedIn Ads
As explained earlier, LinkedIn offers a range of advertising options. These can help you reach your target audience and achieve your marketing goals. Explore these options to see if they're a good fit for your business and marketing objectives.
10. Build Connections
LinkedIn limits 30,000 connections. So, be methodical about whom you connect with. Consider what's your ideal connection purpose. Your connections will share your LinkedIn posts so they reach new audiences – who in turn, will follow you. So, break down your audience into separate segments and connect with one segment at a time.
For example, let's assume you target CEOs, CMOs, and CSOs across the US. First, connect to everyone who's a CMO in San Francisco. Then move on to every CSO in San Francisco, then CEOs in the same area. When you're done here, move on to the next city.
The Way Forward
LinkedIn offers a wide range of powerful B2B marketing tools that can help businesses connect with their target audience, generate leads, and grow their brand. Using the tips and strategies outlined in this article, you can make the most of these tools and take your LinkedIn B2B marketing to the next level.
If you need further assistance or guidance in your LinkedIn B2B marketing efforts, don't hesitate to reach out to Revnew. We are a leading LinkedIn B2B marketing agency that can help you achieve your business goals.