Are you ready to turn your healthcare manufacturing business into a revenue-generating machine? With the healthcare industry projected to reach $665.37 billion by 2028, now is the time to focus on lead generation and ensure you're getting your piece of the pie. Don't worry; we're here to help make the process fun and easy.
By utilizing a variety of tactics, from social media marketing and outbound marketing to networking events, you'll be able to generate organic leads that may turn out to be your potential clients.
According to a study, B2B businesses with a strong lead generation strategy in place tend to increase their conversion rates by nearly 11.70%. So, now it's time to take your business to the next level and turn it into a revenue-attracting machine!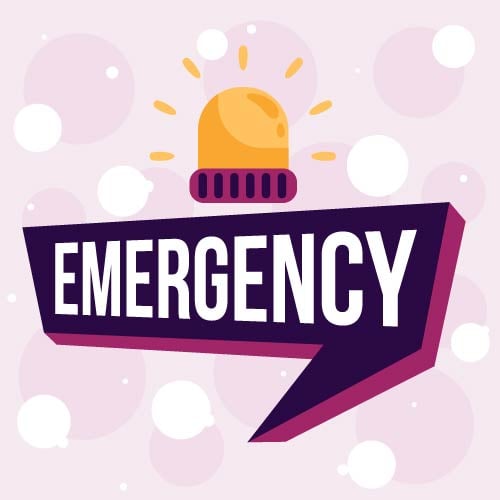 What Is A Lead In The Medical Business?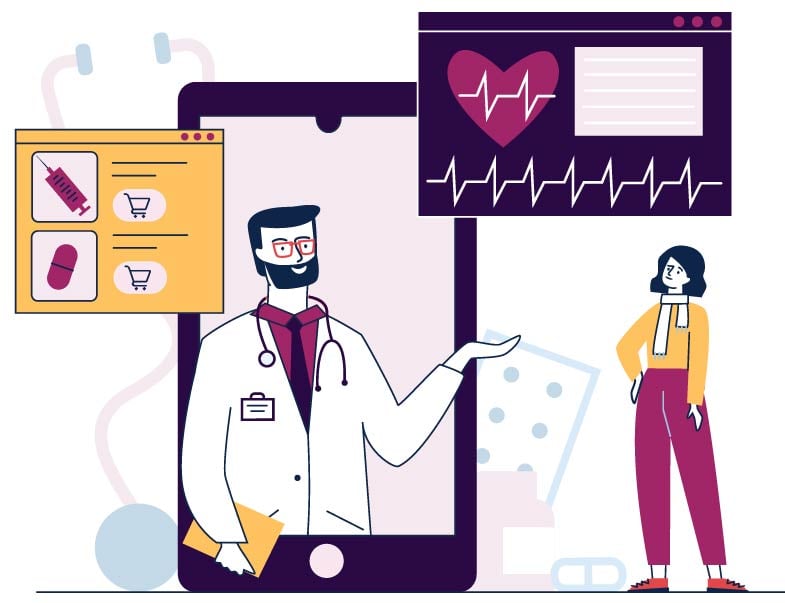 Medical lead generation is all about showcasing the unique value your business has to offer compared to your competitors. And let's tell you, it's more than just setting up a website and running ads.
To create a successful lead generation campaign for healthcare sales appointments, you'll want to think about what potential decision-makers are looking for and what will catch their attention. This could include highlighting your team's qualifications, the latest technology you use, or displaying testimonials from other healthcare manufacturers.
Medical device, equipment, technology, hardware, and pharmaceutical companies can all benefit from it!
What Really Lead Generation Is?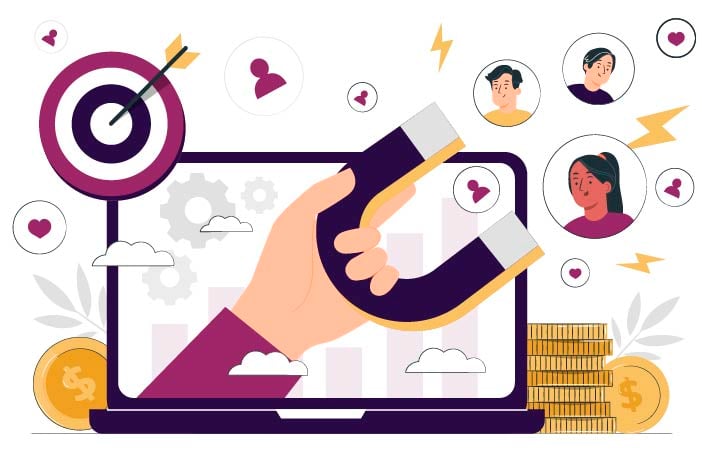 You may have heard of the term "lead generation" before, but we have broken it down for you in an easy way. Lead generation is like going on a treasure hunt for potential customers who may be interested in your amazing product or service.
Once you find them, you get in touch with them and start chatting about your business and all the features your product has to offer. Think of it as introducing a new friend to your other friends; the more people you introduce, the more your business grows.
A successful lead generation campaign can boost your revenue by 133%! For example, being a healthcare manufacturing company, you can use lead generation to find direct clients who may require their products for their clinics. You can use various techniques like email marketing, social media, online advertising, and search engine optimization to target your ideal audience.
After identifying your target audience, you can reach out to them to educate about your services and convert them into paying customers. With well-executed medical sales lead generation tips, your business can significantly increase revenue and improve customer acquisition and retention.
Together, you make a deal where they'll share your content. In return, they'll send you a set number of leads at a set price. This can be a reliable source of lead referrals since marketers can predict how much lead volume they will see over a designated period.
Plus, as part of the negotiation process, marketers and sales teams can define what data points they want to acquire from each lead. This way, you can build a complete picture of your customer like a jigsaw puzzle.
8 Healthcare Lead Generation Strategies In 2023
1. Make It Easy For Prospective Clients To Contact You
With the increasing trend of online searches, healthcare manufacturers need to have a strong online presence to attract potential partners and customers. To effectively reach out to these marketers, consider the following steps:
Create a user-friendly website that showcases your products, services, and expertise, making it easy for prospects to access information about your company.
Utilize social media platforms and directories such as LinkedIn, ThomasNet, and industry-specific forums to reach out to potential partners and showcase your products and services.
Establish a relationship with consultants in the healthcare industry, as they can provide valuable insights and help you reach potential customers.
Attend industry events and trade shows, as this is a great opportunity to network with marketers, showcase your products and services, and build relationships.
Offer valuable resources, such as case studies, white papers, and webinars, to educate and inform potential partners about your products and services.
2. Use Multiple Forms Of Communication To Follow Up With Leads
One important piece of the puzzle is how you follow up with your leads. It's not just about when you reach out, but also how you do it. And, trust us, it's not as hard as it sounds! Here are two powerful tips to help you effectively follow up with leads and turn them into clients.
Segmentation:
First things first, segment your medical leads. Not all leads are created equal and have different needs and pain points. For example, a lead that came to you through an email opt-in campaign may be ready to close, while a lead that filled out a 'contact me' form on your website may need more warming up.
This approach attracts potential clients and demonstrates your commitment to providing value and staying up-to-date on industry developments.
Nurture with Valuable Content
Another tip is to nurture your prospects with valuable content. You can do this by sending them helpful stats, infographics, and downloadable guides. Remember, your leads aren't going to become your forever clients after one interaction, so keep the conversation going.
For example, you can attract clients by offering a free webinar on "The latest advancements in medical devices" for healthcare professionals. The webinar can provide in-depth information about the company's products and services, as well as its expertise in the field. By registering for the webinar, attendees can provide their contact information, allowing you to nurture and establish a rapport with them.
3. Respond To Leads Quickly
The goal of healthcare lead generation companies is to convert potential customers into paying clients. One key metric for measuring the success of a lead generation campaign is lead response time, which refers to the time it takes to how quickly you respond to a lead's inquiry.
In fact, research shows that you're 21 times more likely to qualify for a lead with a fast response time than if you wait 30+ minutes. So, you see, speed is the key to winning new business!
But what exactly is the lead response time? It's the average time for a sales team member to follow up with leads after they've taken any action, like filling out a form, downloading content, or answering a call. To make this metric even more impactful, you can segment your leads based on their source and give higher scores to leads who took a high-value action, like requested for discovery calls.
For example, suppose someone fills out a form on your website requesting more information about a specific medical device. In that case, a fast lead response time allows you to email your lead to schedule a strategy call to discuss your product in depth.
To make sure you're responding quickly, you can use this formula:
Time/date of new lead - time/date of follow-up response = # time passed to respond
Sum of (#) time passed to respond for all leads / (#) contacts = average time passed to respond
This formula can be counted in hours, minutes, or days, depending on your speed to lead. Using this formula, you'll be able to track your lead response time and adjust your sales strategy as needed. So, let's put the pedal to the metal and convert those leads faster!
4. Build And Manage Your Online Presence
Want to make your healthcare website the go-to destination for professionals in this industry? The secret is in the content! Sure, a website is great, but without fresh and relevant content, it can feel a bit static. But don't worry. Creating a successful content strategy is easier than you think!
First things first, put yourself in your client's shoes. What are their common concerns? For example, healthcare professionals may be interested in learning about the latest medical technologies, the benefits of using a specific medical device, and the expertise of the manufacturer's team.

By creating content that answers these questions and showcases the manufacturer's expertise and products, they can establish themselves as a trusted resource in the industry. One helpful tip is to use tools like Google Trends to research popular keywords in your area. This will give you an idea of what clients are searching for and what topics are currently of interest.

But, content isn't just about facts and figures. It should also be conversational and humanize your company. So, use clear headlines, break up your text into easy-to-digest chunks, and make sure to sprinkle in a bit of personality.

We know creating all this content can seem daunting for healthcare manufacturers. But, don't worry! You can always repurpose existing materials and get more out of less. For example, you can update and republish old blog posts or turn them into infographics or videos.
5. Nurture Strong Relationships With Your Clients
Building strong relationships with clients is key to the success of any marketing practice. One of the best ways to do that is by keeping the lines of communication open. Whether your clients prefer phone calls, text messages, emails, or professional social networking, you or your staff must be regularly reaching out to them on platforms they're comfortable with. It will not only help your clients engage with your brand, but it'll also allow you to build valuable relationships with them.
By actively listening to your customers and hearing their concerns, you can be a life savior for them. You can use their feedback to improve the customer experience and increase the level of satisfaction. In addition, it makes them more likely to recommend you to others in the same industry.
6. Use Marketing Funnel For Lead Generation
A marketing funnel can serve as an indispensable tool for healthcare manufacturers looking to generate qualified leads. It entails a series of steps aimed at guiding prospective clients from initial awareness to ultimate conversion.
The process of creating a marketing funnel commences with attracting and nurturing leads by providing valuable content, such as e-books, webinars, and white papers. Next, the focus shifts to evaluating lead readiness by conducting surveys or assessments to gain insights into their requirements and preferences.
In the latter stages of the funnel, lead scoring and qualification come into play, allowing healthcare manufacturers to prioritize the leads that are most likely to convert. It can be facilitated through personalized follow-up communication, targeted offers, and other relevant touchpoints. Finally, the funnel culminates with closing the sale through a variety of means, including face-to-face interactions, virtual demonstrations, and contract negotiations.
7. Do Not Underestimate Video Content
Viral videos and millions of viewers are awesome, right? But, hold on a sec, are those millions of viewers part of your target audience? That's where having a solid content strategy comes in. It's important to understand who your market is and what they're looking for.
Your video content should add value to your audience. It could be focused on your healthcare products, services, etc. Just make sure it aligns with your overall strategy. Now, you need to promote them correctly to generate more leads from your videos. And the best way to do that is by linking them to your social media.
Use social media to prospect for healthcare leads like promoting your content on social media, drawing your audience in with your videos, and then using that as a way to generate leads. It's like a magic trick because it's real, and it works! So, make those viral videos work for you by targeting the right audience and promoting them the right way.
8. Don't Underestimate The Power Of Outbound Marketing
Healthcare marketing traditionally has been focused on outbound techniques, where companies actively promote their products or services through various one-way communication channels.
These channels include print and radio ads, billboards, cold calls, cold emails, direct mail, and trade shows. This method involves identifying potential leads and nurturing them through outbound marketing strategies to get their response without being pushy. You should choose REVNEW to do the job on your behalf. The company has expertise in outbound strategies and helps you keep a steady flow of leads.
Conclusion
So, let's sum it up: Nurture your leads with useful content, communicate regularly with clients on platforms they prefer, listen to their feedback, and promote your content correctly. By doing all of these, you'll be well on your way to building a steady stream of new clients and growing your business.
Remember that healthcare lead generation is not a one-time thing; it's an ongoing process that requires constant attention and effort. With the right strategy in place and a bit of hard work, you'll be converting leads in no time!