Do you know why LinkedIn can be the most powerful platform to generate leads for your software company? Several reasons exist, including its advanced filter and search features to reach ideal prospects quickly. In fact, 89% of B2B marketers use LinkedIn lead generation tools and features for effective results.

Using LinkedIn ensures you have a solid strategy to follow. It also helps your lead-generation efforts to be on track with your goals. Thus, you can progress consistently towards accomplishing them.

Additionally, LinkedIn offers irresistible benefits to your business, such as:

Solidifies your software business's reputation and trustworthiness.
Gives direct access to relevant people and companies.
Lets you make the best use of existing connections and relationships.
Let's move ahead to learn how to generate leads on LinkedIn for your software company.
Start LinkedIn Lead Generation by Defining Your ICP
Always start your marketing campaigns by defining who you want to target. It's like setting the direction of your efforts at the earliest. So, how can you identify your ideal customers for the software you design?
The answer is simple; these individuals or organizations would gain the best benefits from your offerings. In return, they'll provide your company with the most value, such as increased revenue, expanded reach, etc.
Once you find your ideal customer type, direct your resources toward connecting with them. LinkedIn makes the process easier for you. It lets you leverage its demographics and characteristics filter to find your target groups. You can also use LinkedIn's sales navigator for a more filtered search. Use its free trial to get the following services:
Track target people and companies
Save accounts/leads, Alerts, Custom lists, Notes
Prioritize and qualify leads
Sales preferences, lead, and account recommendations
Sales spotlights
Advanced search
InMail
Extended Network Access
Record of potential leads who viewed your profile within the past 90 days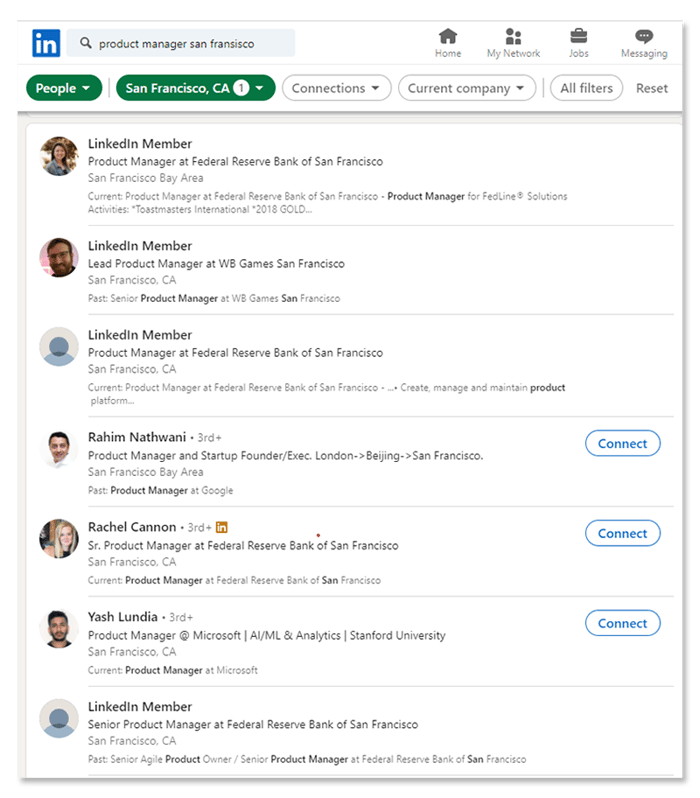 Additionally, you can double the strength of your LinkedIn lead generation efforts by connecting with Revnew. We are a LinkedIn lead generation agency specializing in B2B marketing models exclusive to software companies.
Optimizing Your LinkedIn Profile
I. Work On Profile Picture, Headline, And Background Image
This step aims to make your software company's LinkedIn profile look professional, authentic, and legit. You can do it by adjusting the following elements:
Profile picture: You should have a clear and professional profile picture. You should not add a group picture, avoid images where you are looking away from the camera, or wearing sunglasses, etc.
Background: Use a customized background image for your software company's profile. It could include a value prop statement, a link to the website, or contact information.
Headline: Include relevant keywords of the target location, impact, or value prop statement in the title. It should display your company's unique differentiator. Highlight phrases you think are important.
II. Creating A Compelling Company Description
Here's how to do it:
Start with telling your company's origin story. You can share why the company was established and what it's passionate about and cares about.

Next, mention the top three unique selling points of your software.

Add key areas of your company's expertise through bullet points.

Add some relevant keywords.

Invite your prospects to connect with you and give clear contact information.
III. Highlighting Company Culture, Achievements, And Offerings
Give a brief on how your software company carries out its operations in the workplace, its values, and its formal behaviors. Don't forget to show off what all your company has accomplished. It can include awards, nominations, important milestones, etc. Add details about the kind of software that you offer.
At last, elaborate on the offerings that make you stand out from your competitors. Highlight the motivation behind your offerings.
IV. Showcasing Customer Testimonials And Success Stories
It's found that 92% of prospects consider past customers' reviews before finalizing their purchase decision. Thus, you must leverage LinkedIn's recommendation feature to showcase trusted social proof. Use your existing recommendations or ask your happy customers to recommend you to others. Highlight the recommendations as a whole, or you can display just snippets.
Ask your existing customers to share concrete analytics and numbers to demonstrate how your product helped their business.
Besides customer testimonials, don't forget to add success stories. Use storytelling methods to describe your past client's problems and how they received positive outcomes after using your software solution.
Give it a touch of relatable story elements. Mention how your product solves some major problems companies face belonging to your targeted prospect's industry.
For example, if your ideal prospects are marketing executives, showcase what positive changes other marketers gained through your service.
Here's an example: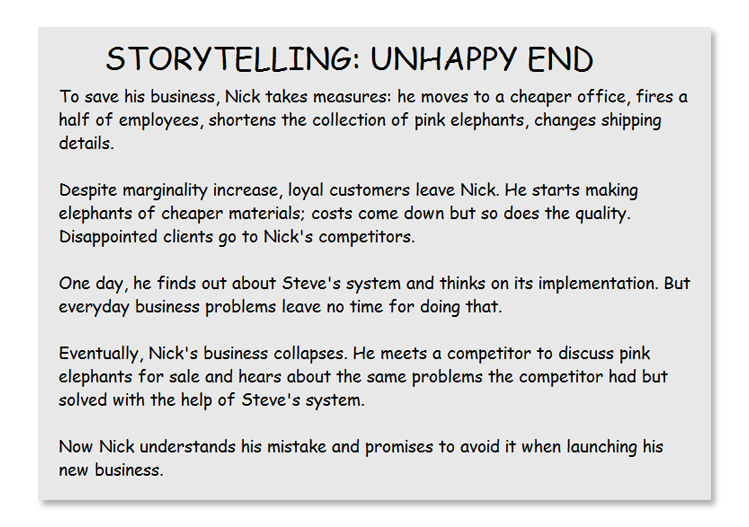 Source
Instead of just text, showcase customer success metrics like improved efficiency, increased sales, decreased expenses, etc.
V. Strong Network Building With Software Industry Peers, And Influencers
Maintaining contact with these relevant entities through your LinkedIn profile gives you a valuable and informative feed. They keep you updated with the latest trends and current requirements in your product/service niche. If you find any interesting content shared by relevant influencers, always share that on your feed. It adds value and context to your professional LinkedIn profile.
Prepare A Content Strategy
I. Understanding the different types of content that perform well on LinkedIn
Businesses on LinkedIn prefer connecting with users that offer meaningful, relevant, and valuable information. So, providing high-quality content with relevant industry insights can go a long way. For example
Thought-leadership articles.
Case studies on products/services they can benefit from.
Offer them in-depth and detailed information allowing your target prospects to access helpful guides on their respective problems.
It will establish your software company as an authority in the field. Moreover, most service provider businesses focus on blog post creation. Hence, you can eliminate blog content competition by providing different high-quality content types, such as image or video-oriented. Check out the benefits of these formats: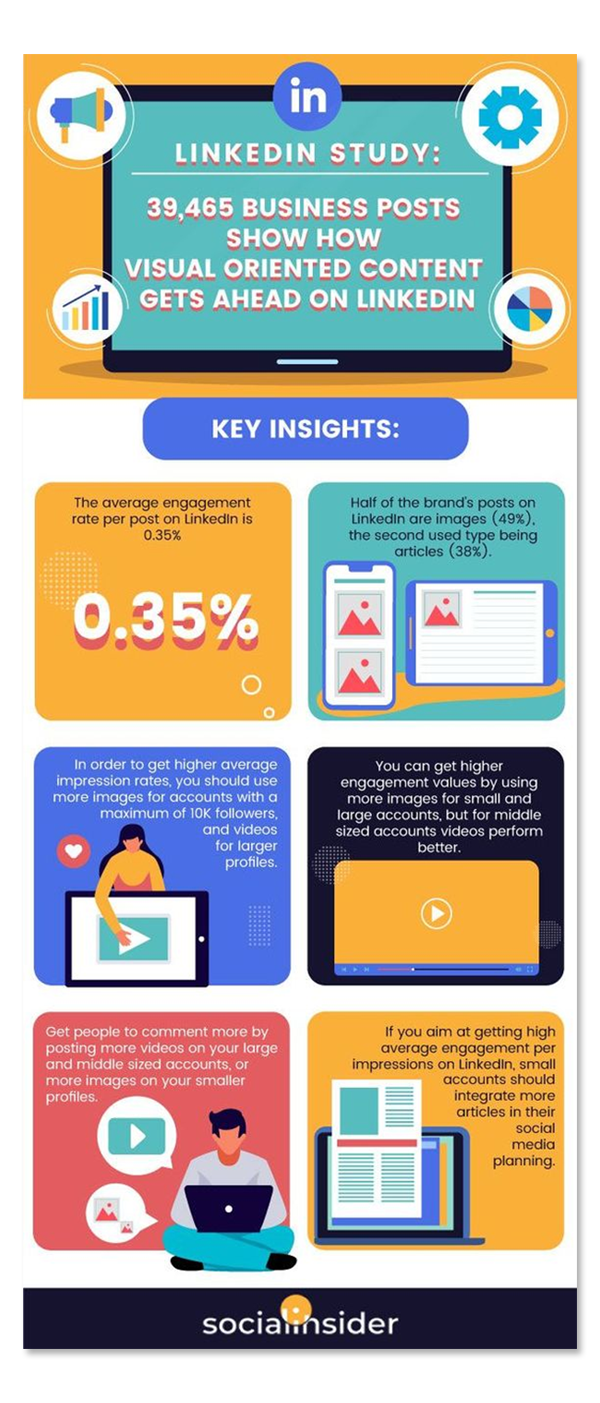 Source
II. Utilizing LinkedIn native video and live video features for engagement
Statistics say that video content on LinkedIn generated more than 300 million impressions within a year, making them 3x more engaging than articles and blog posts. You can run up engagement numbers by utilizing the native video feature of LinkedIn to share short interviews, animations, and recaps. Additionally, you can also try out different formats of video content, such as:
Product demonstrations
Video tours of the product development process
Company's updates
How-to-guides
Leveraging LinkedIn Advertising
You can create lead-generation Ads on LinkedIn with the help of the platform's self-service advertising feature. It lets you create Sponsored InMail, Sponsored Content, and Text Ads. Let's take a look at how you can create a Sponsored InMail: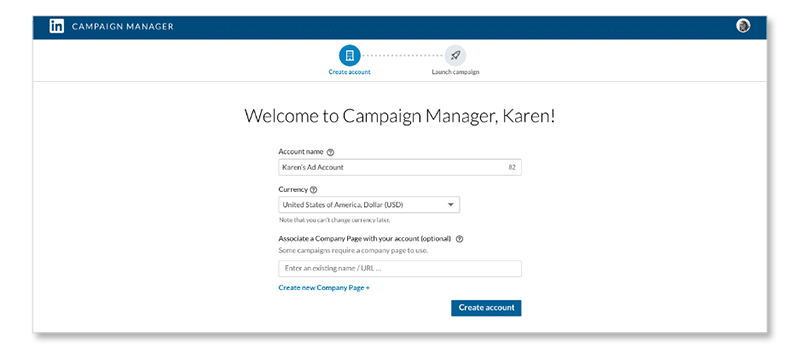 Go to Campaign Manager
Choose Sponsored InMail
Choose a memorable account name and your local currency
Select a name for the campaign.
Set up Sender Permissions. You can choose yourself as a sender or your first-degree connection(s) as senders. Your chosen senders can disapprove of the proposal, though.
Now, let's check out best practices for creating Sponsored InMail content:

Keep it short, relevant, and personal.
Add a customized greeting with %FIRSTNAME% %LASTNAME%
Squeeze body text under 500 characters. Use relevant hyperlinks to make your message more interactive.
With InMail, you can create content for an offer, giveaway, or coupon and add terms and conditions. You can also add a banner image with an optimal size of 300x250 pixels. It also features ads from other advertisers to choose from.
Once you are done with creating the advertisement, use LinkedIn's A/B testing system to see how your message performs. You'll have to duplicate the content to set it up for A/B tests.
Next, select your target audience's estimated size depending on the criteria you applied. The LinkedIn campaign manager will suggest a certain bid range to reach your target audience. Here, you'll be bidding against your competitors. Thus, it's best to bid at the high bid range.
Measuring And Optimizing Campaign Performance Through Linkedin's Analytics And Tracking Tools
You'd want to see how many people complete signup, download, or purchase to drive leads and conversions by focusing on these metrics:
Lead Conversion rate
Cost per conversion
Leads generated
Cost per lead (CPL)
Impressions Analyzed
Valid and Viewable Rate
Nurturing Leads And Building Relationships
Forrester Research says that companies prioritizing lead nurturing gain 50% more qualified leads ready to purchase at a 33% lower cost. Now, you must be wondering how you can do the deed effectively.
You can start with some basic yet powerful lead nurturing practices. For instance, actively respond to messages and comments from your target audience on LinkedIn. It will make them feel you genuinely want to help and care about their concerns and opinions.
Your communication with prospects might break if they don't get their queries cleared on time. In fact, they can move on to your competitors. So, respond quickly at whichever stage your prospects are in the sales funnel.
Ensure delivering personalized messages throughout the customer journey. First, you can extract email lists from your LinkedIn connections. Next, use them to send customized messages. Top personalized elements include the prospect's name, location, previous purchases, etc.
Try having one-on-one conversations with your leads to make your interaction more effective. Do this while your leads interact with other touchpoints.
Some examples of one-on-one interactions are phone calls, in-person meetings, social media DMs, personal correspondences in emails, etc.
Join Relevant Software Industry-based LinkedIn Groups
Four tips for joining groups on LinkedIn :
I. Choose Groups Your Prospects Are Likely To Join
Filter the LinkedIn groups based on your target audience's geo-locations, industry, interests, hobbies, etc. Additionally, check suggested groups from the "Groups You May Like" feature. LinkedIn suggests these groups based on your profile information, network connections, existing group memberships, skills, and expertise.
II. Think About What Role You Want To Play In The Group
Will you be someone who silently observes what other members have to say or actively shares and responds to relevant information in the group? The best choice would be to maintain a balance between both roles.
You should always start by listening to what your audience and group members are saying. Observe their interests, needs, and what they are passionate about. Then actively engage in ongoing conversations where you can share something valuable.
III. Try Joining A Few Groups Before Becoming A Member Of Many
You might feel it tempting to be present in each group where your targets are. However, you may end up with an irrelevant and overwhelming crowd rather than a meaningful community. Joining a community that shares insights into the software industry will be beneficial for you.
Take time to adjust to a few groups. Once you successfully present yourself as someone valuable in front of other groups and think you can add more to your plate, consider joining more groups.
IV. Share Valuable Content To Speed Up Your Linkedin Lead Generation
A guide on how to generate leads on LinkedIn is incomplete without mentioning the importance of sharing valuable content. When you share content, you increase the likelihood of people seeing and engaging with it. The more value you add to the content, the more opportunities you get to attract and impress high-ticket clients.
Another piece of advice is to focus on niche content and make it specific to one-two matter. It showcases your expertise level.
Conclusion
That is all! We covered all the important information on LinkedIn Lead Generation, from defining your audience to attracting and nurturing them. Ensure to use LinkedIn demographic and advanced search tools to filter your specific targets.
For software companies, implementing a comprehensive LinkedIn lead-generation strategy works best. The site is one of the biggest hubs of professional networks. The majority of your target audience is already on LinkedIn. Thus, consistent optimization of your lead generation campaign can give amazing results.