Are you looking to expand your business and reach out to potential customers? Then, cold email marketing could be the solution you need.
In fact, you can generate new leads and increase your sales with targeted cold email marketing campaigns. These campaigns let you reach individuals who didn't even know your brand. Around ⅓ of these campaigns show an open rate of 60% or more.
But, it's essential to approach these campaigns strategically. With a clear message and an understanding of your audience, you can create a successful cold email campaign to help you grow your business.
How To Create An Effective Cold Email Campaign
Below is the curated list of tactics and strategies you need to boost the effectiveness of your cold email campaign: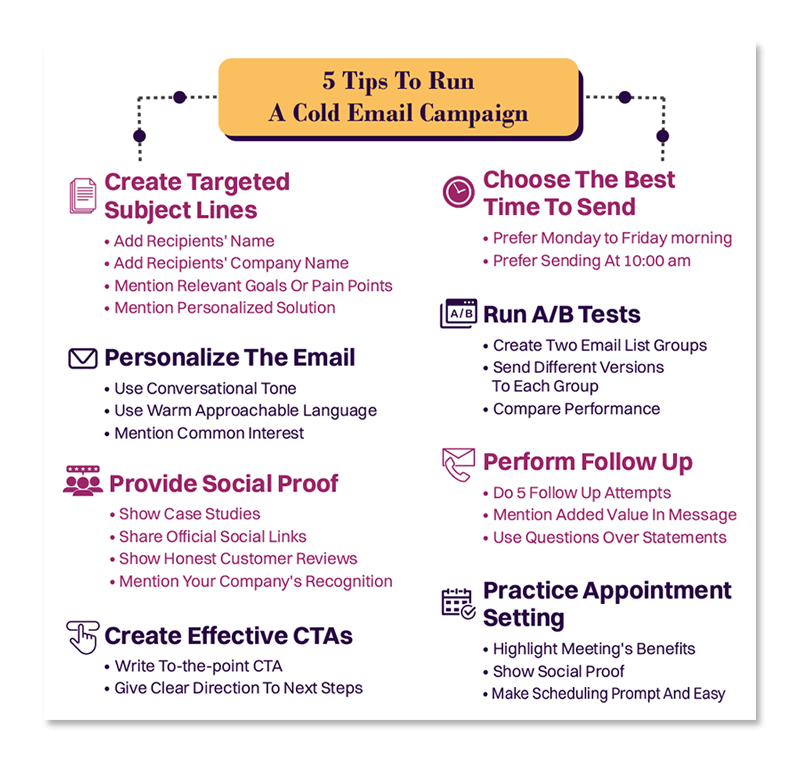 Step 1- Do The Groundwork
1. Prepare Case Studies
According to a survey, 13% of marketers consider case studies one of the main media types they use in their content marketing approach.
Below is the ideal case study format to follow:
Introducing customer's business
Framing the business challenge in a constructive manner
Narrating the rationale behind selecting and executing your solution
Presenting a detailed portrayal of the advantages attained by the customer
Here are some essential tips to boost the impact of your case study:
When writing a case study, focus on your customer's success, not your own
Make sure each case study matches the customer's buying journey
Try to get an agreement from the customer about using their name in your case study
Understand exactly how your product or service helped your customer succeed
Ask your customer to share their success story in their own words. A video interview is an excellent option for this
2. Create A Good Offer
Here are some tips on how to create a good offer for a cold email pitch:
Before creating a cold email pitch offer, you must understand your audience. Research prospect:
Needs
Preferences
Pain points to make a relevant and valuable offer to them
Your offer should be specific and clearly communicate what the recipient will get. Avoid vague language and focus on your offer's benefits and outcomes.
Stand out from the competition by offering something unique or exclusive. It could be:
A limited-time discount
Free trial
A personalized consultation
Your offer should provide clear value to the recipient. Here, you can highlight how your product or service can help them achieve their:

Goals
Save time
Increase revenue
Make It Personalized-
Personalize your offer by using the recipient's name and mentioning specific details about their business.
In fact, a study proved that emails with the recipient's first name and the subject line showed a higher clickthrough rate than the ones with no personalization.

Use A Call-to-action-
Use a clear and compelling CTA (Call To Action) that encourages the recipient to take action. It can be a button or link directing them to a landing page or scheduling a call with you.


3. Add DMARC To Your Domain
Domain-based Message Authentication, Reporting, and Conformance (DMARC) is a technical protocol designed to safeguard email senders and recipients against sophisticated threats that may lead to email data breaches.

Here's a step-by-step guide on how to set up DMARC for your domain:


Log in to your domain's DNS management portal
Navigate to the DNS management section for your domain
Locate the DNS record for your domain's TXT record. If you don't already have a TXT record, create one
Add a new TXT record with the following information:
Name/Host/Alias: _dmarc
TTL: 3600 (or the default for your domain)
Value: v=DMARC1; p=none; rua=mailto:youremail@yourdomain.com
Replace "youremail@yourdomain.com" with an email address where you want to receive DMARC reports. This email address will receive aggregate DMARC reports from your email receivers (e.g., Gmail, Yahoo, Hotmail, etc.)
Save the TXT record
After the changes have propagated, check the DMARC record to ensure it has been set up correctly. The record should show "v=DMARC1; p=none; rua=mailto:youremail@yourdomain.com" (with your email address) if it has been set up correctly
Once you have confirmed, change the "p=none" part of the record to "p=quarantine" or "p=reject" to instruct email receivers to quarantine or reject messages that fail DMARC authentication
Save the changes to the DMARC record
4. Build A Unique Email Signature
Here are some tips on creating a professional email signature:
Keep It Simple-
Your email signature should be easily readable and visually appealing. Stick to a simple design with minimal colors, fonts, and graphics.
Include Your Full Name-
Ensure your email signature includes your full name so that recipients know who they communicate with.
Add Your Job Title-
Including your job title helps establish credibility and authority.
Include Your Contact Information-
Your email signature should include:

Your phone number
Email address
Website (if applicable)
It makes it easy for recipients to get in touch with you.

Use Social Media Icons-
If you have professional social media profiles (such as LinkedIn), consider adding icons and linking to them in your email signature.
Keep It Up-to-date-
Regularly review and update your email signature with any new information, such as a job title or contact information change.
5. Ensure CAN-SPAM Act Compliance
The CAN-SPAM Act is a US law that regulates commercial email messages, including cold emails.
Here are some essential CAN-SPAM Act compliance guidelines for cold emailing that SDRs should follow:
Don't Use False Or Misleading Header Information-
Your "From," "To," "Reply-To," and routing information (including the originating domain name and email address) must be accurate and identify the person or business who initiated the message.
Don't Use Deceptive Subject Lines-
Your email's subject line should accurately reflect the content of the message and not be misleading.
Identify The Message As An Advertisement-
You must disclose that your email is an advertisement or solicitation in the subject line or the message body.
Include A Physical Address-
Your email must include a valid physical postal address where you can receive mail.
Offer recipients an opt-out method-
Your email must include a clear and conspicuous way for recipients to opt out of future emails from you. It can be an unsubscribe link or a simple statement like "Reply with 'Unsubscribe' in the subject line."
Honor Opt-out Requests Promptly-
If someone requests to unsubscribe from your emails, you must honor that request within ten business days.
6. Warm Up Your Email Address
Email warm-up refers to gradually increasing email sending volume to improve deliverability and avoid being flagged as spam. Here are some tips for warming up your email address:
Give Optimal Time To New Email Address-
Wait for at least 12 weeks before sending out your first cold email campaign for outreach.
Perform IP Warm-up-
It involves slowly increasing your email sending volume (usually 2-4 weeks) to establish a positive reputation with ISPs (Internet Service Providers). You can do it manually or automatically.
Step 2: Prepare a Cold Email Lead Generation Strategy
Lead generation is the ultimate goal of your cold email marketing campaign. So, we curated some key strategies for successful lead generation via cold outreach:
1. Fix Your Ideal Customer Profile (ICP)
Before you start any cold email lead generation activities, you need to define your ICP. It includes:
Identifying the job titles
Demographics
Company size
Revenue,
And other factors that describe your ideal customer
It will help you narrow your search and target the most relevant prospects.
2. Target Industry-wise/Choose Your Niche
Depending on your business, focusing on specific industries or niches may be more effective. It will help you identify and reach out to prospects interested in your products or services.
3. Perform Lead Scraping
Lead scraping involves using tools to extract contact information from relevant websites, social media platforms, and other public sources. You can use tools like-
It is an efficient way to generate a large volume of leads quickly. However, it requires careful attention to ensure you only target relevant prospects.
4. Create Lead Database
Using a lead database can save time and effort in generating leads. These databases contain contact information for potential customers.

Furthermore, you can search for your ideal customers based on various criteria, such as:

Industry
Location
Job title etc.
However, it's important to remember that these databases may only sometimes be up-to-date or accurate.
5. Conduct Database Cleansing
It's essential to regularly clean and update your lead database to ensure you only target active and relevant prospects. It includes removing invalid or outdated contact information.
Step 3: Run Your Cold Email Campaign
1. Create Targeted Subject Lines
Targeted or personalized emails do double the open rate. So, tailor it to your core message and recipients' needs.

Here are a few examples you can take ideas from:

Congratulations on your latest achievement!
Just read your blog post on [topic] - Great insights!
How do you stack up against [competitor]? A sensitive subject?
Interested in your thoughts on [your service/the solution you provide]
Can we catch up in 2 minutes? [Your company] & [Their company]
X improvement tips for [company name]
Resources for [company name] - take or leave it!
A [faster/better/easier] approach to [their goal]
Discover the new solution for [their relevant pain point]
Achieving [their goal] is made easier with [your company name]
2. Personalize The Email
Similarly, as subject lines, avoid using generic opening lines. Instead, customize the opening sentence based on the following:

Your relationship with the recipient
The purpose of the email
Further, use these tips to personalize your email's first line:
Use a friendly and conversational tone to establish rapport with the recipient and make the email more personal
Use warm and approachable language, and avoid jargon or overly formal language
Research and mention a common interest in the first line of the email. It could be:
A colleague
Client
Friend,
Someone else you both know
3. Provide Social Proof
You can provide different social proof signals for the purpose, such as:

Relevant case studies
Business social media links
Customer testimonials and reviews
Relevant awards or certifications
4. Create Effective CTAs
When crafting a compelling CTA, the goal is to provide a clear direction for your prospect.

Plus, you should make it simple for them to follow through with your request. Check out these examples to get an idea of writing clear CTAs:

"Click here to download your free e-book now!"
"Get started today with our 7-day free trial."
"Call now to schedule your appointment with our expert team."
5. Choose The Best Time to Send Cold Emails
Determine the optimal time when your target audience has a higher chance to check their email. According to data from Salesloft, any day excluding Friday afternoon and Saturday can be effective.
However, Mailchimp's research states there is no standout weekday for sending emails.
But, regarding the best time of day, they have found that 10 a.m. in the recipient's local time zone is the most effective.
6. Run A/B Tests
To perform the test, you need to:

Divide a small segment of an email list randomly into two groups
Then, send each group a different version of an email
Further, compare each version's performance
Here are some tips for conducting a practical email A/B test:

Determine What You Want To Test-
Before conducting an A/B test, determine what aspect of the email you want to test. It could include:

The subject line
The sender name
The call-to-action
The layout and design of the email
Test One Variable At A Time-
To accurately measure the impact of a change, only test one variable at a time.
Thus, if you want to test the subject line, keep the rest of the email containing the same for both versions.
Keep The Test Sample Size Small-
Keep the test sample size small to minimize the impact on your overall email list. A sample size of 10-20% of your email list is usually sufficient.
Further, you can also take the help of an email sample size calculator to find the right size.
Measure The Right Metrics-
Choose the right metrics to measure the performance of each version. It includes:

Open rates
Click-through rates
Conversion rates
Revenue generated


Repeat The Test-
To validate your results, repeat the test multiple times over different email list segments. It will help you ensure that the results are consistent and not due to random chance.
7. Perform Follow up
Studies indicate that sending a single follow-up email shows a 65.8% higher reply rate. Furthermore, a follow-up email offers your sales team another opportunity to present your case to the prospect.

However, the question remains: what is the optimal number of follow-up emails?

Yes, sending multiple follow-up emails can enhance B2B cold email engagement. However, it's advisable to cap the number of follow-ups at five. Exceeding that amount may irritate your target customer and sabotage the possibility of finalizing a deal.

To improve the effectiveness of your follow-up emails, consider the following tips:

1. Provide Added Value In Your Follow-up Message-

Aside from opening your follow-up email with phrases like "Just following up or wanted to follow up," ensure to offer anything new to your prospects. Here, you can offer resources such as:

A recorded webinar about your tool
A case study about a well-known brand that's your client
Industry research
It provides value to the prospect and encourages them to engage with your message.
2. Use Questions Rather Than Statements-
It encourages more conversations and engagement.
For instance, ask questions like "What is preventing you from exploring this further?" then provide an intuitive list of options (Multiple choice) they can select from.
Or you can ask, "Are you still facing the XYZ problem?" Again, give a yes or no response option so that you can get them to interact without taking too much of their time.
This approach prompts prospects to respond and can lead to more meaningful discussions.
8. Practice Appointment Setting
Setting up appointments through cold emails can be challenging, but it can also effectively generate new business opportunities. Here are some tips for appointment setting through cold email:

Keep the email short and to the point. Focus on how a meeting with you can benefit them. You can:

Mention a recent success story
Client testimonial to demonstrate your expertise and the value you can provide
Highlight The Meet's Benefits-


Highlight the benefits of a meeting with you, such as learning more about your product or service.
Also, a way to discuss how you can help their business achieve its goals.

Follow up with the recipient if you don't receive a response to your initial email. It may include:

A follow-up email
A follow-up phone call
Use Social Proof-
Use social proof to demonstrate your credibility and build trust. It includes mentioning any awards or recognition your company received or any well-known clients you have worked with.
Make It Easy To Schedule-
Lastly, make it easy for the recipient to schedule a meeting by including a clear CTA. Additionally, provide a link to your calendar or a suggested meeting time.
Conclusion
We covered A to Z information on creating cold email marketing campaigns. Using these tactics, you can reach potential customers and generate leads for your business.
With patience and persistence, cold email marketing can help you grow your business and reach new heights.
Revnew, a reliable B2B lead generation service provider, can help take your cold email efforts to the next level.
Our experts are well-qualified to build strategic cold emailing campaigns specific to your business. We also automate the process using best-in-class tools to drive maximum results. To know more, contact us now.
Learn how Experts at Revnew helped a client, Core Learning Exchange, reach 3502 target contacts and 32 leads within 60 days via exceptional email strategy.