A well-organized B2B content syndication campaign plays a vital role in curating an effective marketing strategy for companies.
Around 53% of marketing companies rank producing high-quality leads with content as a critical challenge. Therefore, it's essential to focus on content syndication in marketing – not only in 2023 but also beyond.
Selecting a correct B2B content syndication guide with high-value pathways and systems is now extremely relevant to branding ROI and conversion rates.
Why?
A bulk of marketers scramble to generate leads for their published information.
So, let's discover how a B2B content syndication campaign can help marketers generate quality leads. But before that, let's get some basics right.
What Is Content Syndication in Lead Generation?
B2B marketing content syndication is the process of reposting high-performing written posts via third-party platforms and B2B content distribution channels.
B2B marketers use content syndication for lead generation to create premium, warm, and close-to-purchase prospects and maximize marketing ROI.
Dedicated content syndication channels can offer professional services, including lead filtration, multi-point promotional initiatives, and on-demand flexibility.
A large spectrum of media types and formats is appropriate for content syndication. According to research, the most efficient B2B lead-gen content categories are as follows:
Corporate events: 68%
Webinars: 61%
Marketing campaigns: 50%
Case studies: 50%
Whitepapers: 50%
Videos: 37%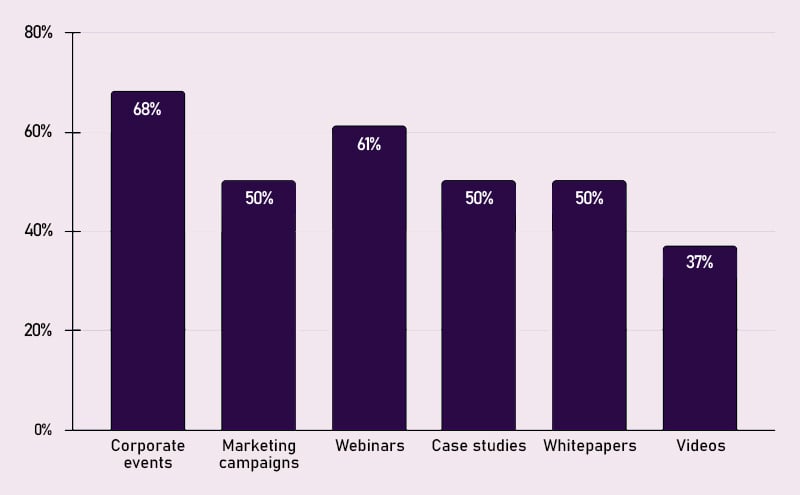 Additional effective formats include eBooks, poll results, podcasts, and infographics.
Why Is Content Syndication Important for B2B Marketers?
Enterprises syndicate B2B materials to achieve various marketing objectives.
Connect With Targeted Consumers
Resource distribution via the best B2B content syndication providers is an efficacious option for companies that must approach targeted groups. Such groups include clients who are incredibly motivated and are present in the market for particular goods and services.
Acquire Leads
Republish materials through B2B marketing content syndication platforms that have access to their intended audiences. Then, you can elicit responses including seeking information through emails or creating an account. This attracts more clients for your sales staff to close follow-up contacts and outreach promotional campaigns.
Increase the ROI of Corporate Content
Companies that only post on their own websites and networks minimize the potential ROI of their subject matter. However, organizations can tactfully use content syndication to republish high-performing content across multiple sites. It amplifies their long-term ROI.
Why Must You Embed b2b content syndication campaign In Your Marketing Strategies?
Before making a purchase, the typical B2B customer absorbs 13 pieces of information. Producing premium, value-added, and informative B2B content necessitates a substantial initial cost. It includes research papers crafted by industry analysts and appealing audiovisual workshops.
Connecting with relevant customers outside of your firm's range via specialized syndication channels is vital. It increases the overall valuation of your highest-rated posts and yields reliable, verified leads.
Marketers frequently face challenges in generating high-quality leads and linking their investments to measurable bottom-line results. Indicators predicated on impressions, including page views, downloads, and additional online interactions, do not consistently predict the number of fresh customers or orders.
Conversely, lead generation affects the bottom line. 53% of marketing professionals disclose that lead generation accounts for more than 50% of their budgets. 58% verify that lead-gen expenses will increase over the next few years. [Source]
Is Content Syndication Good for SEO?
Are you concerned regarding your SEO techniques and the possibility of sanctions placed by search engines such as Google? Well, you don't have to be as long as you recognize how to do it accurately.
Your third-party platform must certify that the content's original author and source are from your official website. Your partners can achieve this by employing conical tags.
You could do content syndication by yourself or work with a B2B content syndication provider. Your hired agency should have significant experience with syndicating content through omnichannel marketing campaigns.
In any case, take into account that B2B content syndication primarily generates cold leads for your organization.
What Are Some of the Most Profitable Content Syndication Campaign Strategies?
Content can be syndicated by businesses using a range of tools and facilities. Choosing the appropriate syndication channels can spell the difference between increasing content ROI and incurring significant costs for impression indicators. We have outlined five of the best content syndication campaign strategies that deliver results in the current economy.
Lead Filtration
Filtration of leads by sector, demographic groups, and connections' job descriptions guarantees that prospects portray capable and interested purchasers.
B2B content syndication vendors accept complicated filter series and provide service contracts. Here, companies just pay for prospects that meet specific requirements.
Scalability
Based on the scale of the firm and its circumstances, it may be required to create precise quantities of prospects — ranging from hundreds to thousands.
Syndication collaborators who can accommodate initiatives as required deliver more cost-effective outcomes.
Promotional Campaigns With Multiple Touchpoints
One-time connections do not always depict solid leads, even within highly focused audiences.
Multi-touch initiatives boost the chances of a single-time webcast participant progressing to become a Marketing Qualified Lead (MQL).
How?
By interacting with users repeatedly.
You can accomplish this by planning contextually predicated dynamic tech webinars. For example, you may set up a strategic plan to nourish leads premised on the number of webinars people join and the degree of participation demonstrated by the invitees.
Account-Based Prospects
Account-based marketing (ABM) aims to reach out to particular target accounts inside one small subset. How? Through personalized initiatives customized to every account.
ABM works well for B2B firms wanting bigger accounts and lengthy business partnerships. However, information conveyed to ABM prospects must be tailored to their particular criteria and include more technologically sophisticated user experiences.
How?
By, including events and webinars on specialty industries and technological advancements.
Syndication of Interactive Media
In 2022, 67% of B2B marketers intended to increase webinar spending. 80% intend to maintain or increase investment in audiobooks like podcasts. [Source]
Efficient B2B content syndication marketing campaigns include a company's greatest attributes. This incorporates video content, recordings, and webinars, instead of only text-based materials like research papers and publications.
As you've seen, content syndication is among the most dependable B2B marketing strategies for generating brand awareness, growth of contact databases, and generating quality leads.
Therefore, let's now check out some of the best B2B content syndication campaign best practices that really produce results.
How To Launch a Powerful and Quantifiable B2B Content Syndication Campaign: 5 Best Practices
Determine Your Objectives
Whenever it involves content syndication, everybody has specific aims.
Is it your target to grow your consumer base or the in-house email newsletter?
Do you intend to boost brand recognition?
How do you establish your workflows for increasing sales opportunities?
If you're able to define what you want to accomplish with your initiative, your next steps will be crystal clear, resulting in more positive outcomes.
Employ a Focused Methodology with the Appropriate Lead Filters
Content syndication campaigns can be customized to meet your specific objectives. They perform effectively when you know exactly who you want to approach.
To help you out, here are a few of the most prevalent lead-targeting variables that marketing departments choose when creating campaigns:
Geography and size of the company
Job titles and responsibilities: The distinction between these two is that job responsibilities are broader. They can generate additional prospects with the descriptions you require but still need to consider.
The optimum number of leads per corporation which you'd be prepared to include in your lead findings: Don't necessarily aim only for one contact per company. Buying teams within your target firms is often bigger than you assume. Hence, the more relevant people you can approach within each corporation, the better.
TAL (Targeted account list): This might be your ABM list or a roster of accounts you're attempting to reinstate. We suggest that your TAL include a minimum of 1000 companies for optimal outcomes.
Personalized queries you would like to ask your leads once they fill out the download forms: Some examples are purchase timeframes, existing technology they're operating that your remedy is aimed at, and so forth.
NOTE: If you've got a particular audience in mind, choose one content syndication service that is a leading company within this space. It MUST possess the necessary track record to back up it.
Reconfigure Your Most Effective Content
What is the allure of content syndication? It's not necessary to generate new content. Simply reuse the most compelling content pieces from your assets catalog. You've probably already spent years developing great content. All that's required now is for it to start generating leads.
As an added bonus, rehashing your current materials in new outlets helps to stretch your content production budget. It provides ROI statistics for the forthcoming time you have to allocate funds for further content contracting.
We suggest that you begin your program with the top three most effective internal assets. Tech purchasers consume a massive amount of information. In reality, 55% of IT buyers consume three to ten content pieces per month or more.
Prior to Actually Passing Them on to Sales, Correctly Cultivate Your Leads
Did you ever download a content piece, which piqued your interest as a marketing manager? But later, you only received a telephone conversation immediately with an appointment! How plausible were you to answer that phone call?
It was most likely a little too soon!
Create email automation with a few more pieces of informative articles for your prospects before transferring them to sales. Monitor who opens your second and subsequent emails. Next, forward those leads to revenues for a more effective outreach campaign.
The best approach is to follow it up as soon as you can with extra items of useful content. For example, if you start receiving your leads on a daily basis, have email follow-up automation placed up and prepared to be sent. You can then simply upload your prospects to them every week and get all the activities started.
NOTE: It's natural for some people to ignore the follow-up of emails, which is to be predicted. To keep them comfortable and acquainted with your company, add individuals to more generalized newsletters or promotions rosters.
If they open any of these emails, upgrade them to supplemental email automation crafted to pique their curiosity. If they start engaging there, transfer them to revenues.
Content syndication is indeed an important component of brand marketing. Hence, a content syndication initiative must be assessed. Both the channel and the information have changed substantially over time.
In the contemporary Internet era, it entails the methodical blending and publicizing of your subject matter on numerous third-party web pages.
As a consequence, the scope expands. Content syndication allows you to reconfigure content while increasing your website's organic traffic. It also adds a significant amount of value to the information.
You must evaluate the effectiveness of syndication in the following ways:
Web Traffic
An increase in traffic to your homepage is an essential indicator of the success of content syndication.
If more leads become involved in your homepage, traffic will significantly increase. Your incoming traffic will soar if you use strategies such as PPC, guest posting, or promotions on social networking sites.
Brand Lift
Metrics of successful brand augmentation include brand recognition, willingness, curiosity, and favorable ratings for the product and services.

As brand augmentation improves, other indicators strengthen. Various companies employ various methods to assess brand lift.
ROI
ROI counts as a critical KPI for evaluating content syndication campaigns. The effectiveness of your B2B content syndication initiative is ascertained by monitoring the ROI.
Number of Leads
What is the goal of operating a content syndication initiative? It is an improvement in your customer acquisition efforts. The subject matter on the third-party online platform will be a difficult exercise to monitor conversion.
As a result, a B2B marketer must establish effective measurement techniques to monitor and analyze conversions following the campaign.
Lead Quality
Once you roll out a B2B content syndication campaign, you unquestionably want to boost the number of prospects. However, you must also be conscious of the quality of prospects.
What should excellent lead quality be? It's a lead that meets the SQL requirement. Concentrate on outbound techniques to ensure lead performance. Prospects can be qualified based on the available information.
How to Launch a B2B Content Syndication Campaign Right Away
RevNew's professional content syndication crew can assist you in implementing a holistic syndication plan in a matter of weeks, with guaranteed leads arriving within the timeframe you specify. All that is required are your goals, lead filter preferences, the number of guaranteed prospects you want, and when you require them. We'll handle everything else!