Recently, offline events have undergone a massive transition into online experiences. This shift has particularly and significantly impacted B2B organizations. In fact, it has led to an enormous change in how we, as B2B marketers, distribute knowledge.
And one of these switches is a surge in webinar production. Now, you already know this. Webinars are highly effective in disseminating helpful resources to your audience.
Notably, ON24, a leading webinar platform, reported a staggering 330% increase in webinars. In addition: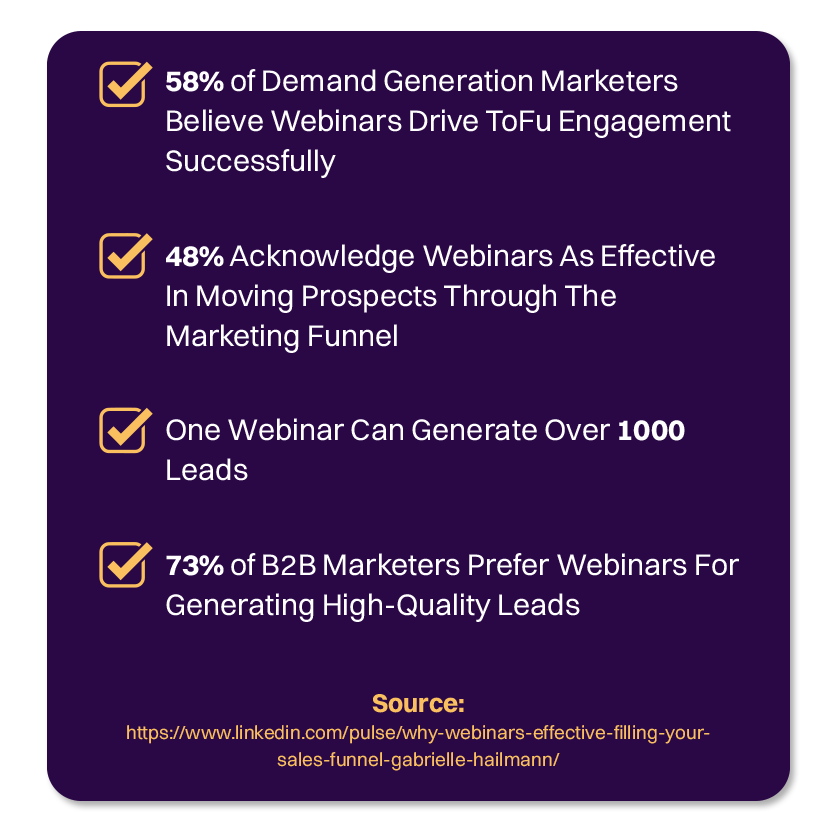 It's true that webinars have long been proven and trusted as potent B2B acquisition and engagement tactics.
In fact, even before the world shifted into interim lockdown, they were a versatile tool. You cut down on expenses while hosting webinars compared to offline events.
Additionally, you can easily make them accessible and deliverable.
However, just like any other marketing approach, your webinar may result in poor audience engagement without the right content.
And this may lead to dissatisfied attendees and potential brand damage. These are genuine concerns when your session's output fails to meet expectations.
The truth is – webinars demand thorough upfront effort to attract and retain an engaged audience. Without thoughtful planning and execution, you may waste resources during these rewarding sessions.
So, to address this challenge, we would like to offer some intelligent tips on generating novel content ideas. With our tactics, you can develop valuable and engaging webinars for your B2B audience.
12 Killer Tips to Choose the Perfect Webinar for Your B2B Audience
Let's check out 12 practical strategies to pick the right topic(s) for your next webinar – to attract and convert your audience.
1. Pinpoint Your Ideal Customer Profile (ICP)
Before planning your webinar topic, your first step is understanding your audience. Hence, answer this specific question – who are you precisely targeting to participate in your session?
You might have multiple customer profiles depending on the range of products and services you offer. Thus, begin by developing an ICP. It comprehensively describes individuals who stand to gain the most value from your solutions.
Your marketing team may already possess ICPs or user personas, giving valuable insights into your ideal webinar audience. If not, here are some helpful tips and tactics to craft your own ICP.
Check out your webinar ICP's various details, such as:
Company size
Annual revenue
Budget allocation
Preferred industries
Desired company locations
Specific additional needs and requirements
Customize these details according to your specific offerings. Also, collaborate with your sales and business development teams so you don't overlook any vital audience information.
Again, you can collect additional data about your ICP through various methods, including the following:
Analyzing data from previous webinar attendees who eventually became customers
Scrutinizing your Customer Relationship Management (CRM) and existing customer lists to identify patterns
Reviewing the information on website visitors who successfully converted
Gauging these data points lets you paint a clear picture of your ideal customer. With this knowledge, you can curate and position your webinar topics for success.
2. Match Your Audience's Goals
Once you've compiled your ICP, begin picking webinar topics that genuinely resonate with your audience. Ensure the topic is relevant and beneficial. It should cater to your participant's specific objectives, requirements, and interests.
Also, brainstorm about the webinar format. You want to make it engaging and interactive, keeping your goals and content in mind.
You can consider the below-mentioned result-oriented formats:
Q&A Sessions: Answer either live or pre-submitted questions from your audience.
Interviews: Coordinate with industry experts. Request them to share their knowledge and experiences with your audience.
Panel Discussions: Gather multiple speakers to discuss a trending topic and spark insightful conversations.
Case Studies: Use case studies to highlight your firm's achievements. Utilize them to present success stories or best practices.
Demos: Showcase how your solution solves a problem. Utilize demos as they are incredibly persuasive in demonstrating your product or service.
Workshops: Teach valuable skills or techniques via virtual workshops. Include some hands-on exercises or assignments to make them more impactful.
Remember: Your prime objective in any virtual event is to focus on your client's goals – and not on solely promoting your brand. Otherwise, your rivals will get the upper hand. And as said by Bob Hooey, "If you don't take care of your customer, your competitor will."
3. Address Post-Sale Customer Needs
You should support your customers even after the sale. Only then you can ensure their sustained loyalty and retention.
So, clearly communicate with your customer service team. Seek their help in identifying themes and subjects focusing on post-sale customer needs. For instance, you can pick up topics like:
How to address product installation roadblocks?
How to resolve the most common customer issues?
To give you more guidance, here are some practical webinar topic ideas suggested by our experts:
Design a webinar that addresses your customers' most pressing concerns.

Incorporate step-by-step instructions and visual aids in your session. Such webinars serve as personalized guides to help your clients navigate any challenge.

Showcase how your solution can add value.

Create a webinar highlighting the benefits that enhance the overall customer experience (CX). It will impress your existing clients and encourage them to return for more.

Track your blog posts.

Check if your audience has questions about your published articles. If yes, you can turn those questions into a webinar. It lets you explore topics that intrigue your customers and provide valuable insights.
4. Focus on Your Sales Requirements
Tailor your webinar to address your company's sales objectives effectively. How? By collaborating with your sales and marketing teams.
Yes, collaboration is powerful. And you must have heard this saying from Mother Teresa:
"None of us, including me, ever do great things. But we can all do small things with great love, and together we can do something wonderful."
Now, this adage applies to the B2B world as well. After collaborating and compiling the required data, curate defined strategies to pinpoint webinar topics with strong selling potential.
Start by compiling a list of your marketing and sales departments' day-to-day requirements. It will serve as a foundation for designing a webinar that precisely caters to those needs. Let us give you some practical examples:
Suppose you note that prospective buyers often stall at a specific point in the sales funnel. In such cases, you can design a webinar dedicated explicitly to clearing up any doubts they may have.

Doing so lets you emphasize your solution's value and advantages at that stage. Therefore, you nudge prospects closer to a decision.


Consider designing your webinar to extract short snippets. It's a perfect approach to embed a potent marketing strategy on various sales channels.

Incorporate attention-grabbing callouts – that you can extract and repurpose for use on social media. It'll help you maximize your reach and impact.
Leverage the collaboration between your sales and marketing teams to design effective webinars – for driving your business toward success and conversions.
5. Prioritize Your Customers Journey
You should know where your audience stands in their customer journey – to choose a webinar topic that resonates with them.
The customer journey typically encompasses five crucial phases:
Awareness: Customers seek information about various options in the awareness stage.
Consideration: Here, they research solutions, discover your brand, and compare it with competitors.
Decision: This phase is the conversion point, where customers become buyers.
Loyalty: This stage centers around customer retention strategies to foster loyalty.
Advocacy: The final phase focuses on transforming customers into brand advocates.
So, when planning your webinar, tailor the topic to the customer journey.
For example, let's say your ideal webinar audience is in the consideration stage of the funnel. In this phase, you can go for a product demonstration webinar.
On the other hand, to engage customers in the awareness stage, share educational and informative content like industry trends or critical insights.
Educational webinar topics establish you as an industry expert.
Plus, they cater to the audience's need to gather information and learn before progressing to the next funnel stage.
When carefully considering your webinar audience's current position in the customer journey, you can select a topic that harmonizes perfectly with their behavior and needs.
This strategic approach ensures your webinar becomes a powerful tool in guiding customers through their journey. Thus, you can quickly achieve your business's conversion goals.
6. Link Your Content Pillars and Clusters
Webinars seldom work in silos. They are integral to broader marketing and sales campaigns. Or, they are interconnected with other content across your business.
Therefore, you should map your content pillars and cluster topics to forge these connections effectively.
Your content pillars act as the core themes representing your brand. You can break these overarching topics into more specific subtopics.
For example, let's say you have content pillars like industry insights, product knowledge, and business strategies. These serve as the fundamental themes representing your brand. You can segment them into more specific subtopics.
For instance, under the industry insights pillar, you may have cluster topics such as – market trends, data analytics, or customer behavior analysis.
By identifying these key content pillars and cluster topics, your B2B company can craft relevant webinars. It ensures your webinars attract, engage, and convert your attendees effectively within the B2B landscape.
7. Adopt the Problem-Solution Approach
The problem-solution is a unique 5-step framework for creating compelling webinar topics. Here's how it works:
Step 1 - Connect with Your Audience: Discuss your customers' challenges. Think about the most common pain points your fellow professionals face. Addressing this head-on will grab their attention and make them feel you understand their struggles.
Step 2 - Offer Practical Solutions: Don't hold back once your audience is hooked and eager for solutions. Share your successful strategies, actionable advice, and real-life examples. Show them how they can solve any issue and supercharge their business.
Step 3 - Showcase Your Expertise: You're not just another face in the crowd – you're the expert they've been looking for. Hence, back up your solutions with data, success stories, and expert insights. Prove to your audience that you've been there, done that, and you've got the results to back it up.
Step 4 - Engage and Bond: You'll form a genuine connection with your audience by addressing their pain points and providing practical solutions. Request them to ask questions and start conversations. It will make them feel they are a part of your community.
Step 5 - Call Them to Action: As you wrap up your webinar, don't forget to give them a clear call to action. Invite them to take the next step – whether it's signing up for a trial, accessing exclusive resources, or scheduling a chat with your team.
They'll be more than willing to jump on board because you've already shown them the value of your offer.
For example, Tarun Agarwal, VP of Growth at Mailmodo, says:
"When deciding on the subjects for our monthly webinars at Mailmodo, I usually assess them based on two criteria. Firstly, I consider whether the topic is currently popular, and secondly, I analyze how we can provide meaningful benefits to the audience. Is the topic effectively conveying actionable insights that participants can gain from the webinar?"
8. Put the Spotlight on Industry Trends
Emphasize industry trends within your B2B niche. If your industry aligns with a broader trend, consider crafting a compelling webinar to showcase its impact. Here are some examples:
Host a webinar centered around an industry-specific event that significantly influences your target audience. The session's discussions can spark ideas for additional webinars or informative content tailored to the same audience.

Leverage trending seasonal topics by incorporating them into your webinar script.

For instance, let's assume your company provides software solutions. Then, you can create a webinar around the latest cloud computing or cybersecurity advancements.
Such timely and pertinent topics will engage your B2B audience and reinforce your industry expertise. That being said, simply don't just run with trends. As stated by Sudhir Khatwani, Founder of The Money Mongers:
"Test the waters. Maybe toss out a LinkedIn poll or see what's buzzing on platforms like BuzzSumo. Trends are cool and all, but don't forget the age-old issues that consistently get heads nodding. It's about blending the new with the tried and true!"
9. Gather Insights from Your Team
Converse with your departments that closely collaborate with your brand. Each group can share unique insights about intriguing webinar topics:
Your sales team can highlight common barriers preventing prospects from converting. Learn about the challenges and queries they often encounter from leads and customers.

Your support team holds information about frequent complaints and questions from active customers. Check out support tickets to spot emerging industrial trends.

Also, focus on your customers. Explore what topics they want to learn more about and their shared queries.

Monitor social media and forums to gauge your audience's interests from their discussions.
Leverage the above insights to select a webinar topic – timely and relevant for your organization.
10. Research Competitors for Insights
If your chosen webinar topic is trending, chances are there will be competitors in the space. Leverage this opportunity to learn from their successes and mistakes.
Researching competitors provides valuable insights into creating a practical webinar, including scheduling, pricing (free or paid), and content approach.
Let's say you are a marketing professional planning to host a webinar on "Advanced Strategies for Social Media Marketing."
After thorough research, you find that one of your competitors schedules similar sessions at 3 PM EST on Mondays. This is the time when your target audience is most active on social media. Hence the webinars result in a higher attendee rate.
You can take this valuable information and adjust your webinar schedule accordingly as well!
Additionally, you discover that some of your rivals offer free webinars while others charge a fee. Analyzing their pricing strategies can help you determine the best approach for your webinar.
NOTE: Competitor research is not about copying others. Instead, it's about using the data gathered to enhance your own webinar.
11. Study Most-searched Keywords
Select the most suitable topic for your webinar by thoroughly researching popular keywords aligned with your brand.
For instance, let's say you're a B2B logistics provider. And online users are actively seeking solutions to increase supply chain efficiency
Then, you can work around this keyphrase and related words to outline relevant webinar topics. Since the session will target your audience's primary queries directly, it will attract a significant audience.
Keyword research is particularly crucial for B2B customers. Why? They require two things:
A substantial level of expertise to assist them in maintaining competitiveness
Assistance in streamlining the process for them to access your services
Hence, you should showcase a deep comprehension of their challenges in a relatable manner. You should also present the solution in an accessible manner – via a webinar.
Therefore, ideally, your webinar should captivate decision-makers. In addition, it should foster a desire to either subscribe to your services or purchase your products.
12. Collaborate With Leading Industry Players
Partnering with key players in your space can be a strategic move to identify the most relevant topics and expand your reach.
You can tap into their knowledge and networks by partnering with key players in your space to choose the perfect webinar topic.
For example, PartnerStack partnered with PartnerHacker on a webinar on Ecosystems, a complex and trending concept in the world of partnerships. By partnering on the webinar, we leveraged the industry expertise of two teams to put on a webinar with the most attendance (2,000) of any on the topic of B2B partnerships.
– Joe Kevens, Founder of B2B SaaS Reviews and Director of Demand Generation at PartnerStack.
Final Thoughts
We hope we were able to offer you some relevant pointers on how to choose the ideal topics for your upcoming webinars. Most importantly, remember to prioritize your customers and stay updated with the latest trends. And you should be all set to host your perfect online event.
If you want more help executing result-oriented webinars, check out a leading webinar promotion agency like Revnew. Our experts are well-equipped to guide you with the right strategies – for your webinars to have the maximum reach. So, without further ado, reach out to us NOW!