Imagine you have built an all-rounder software service ready to rule the market, but you ended-up spending hours pitching it to the wrong prospects. How frustrating that would be!
Wouldn't it be fantastic if you got to pitch your product offers to customers already looking to buy the services you sell? It is 100% possible if you invest in SaaS ABM marketing strategies. They route all your marketing efforts to the right customers, increasing your company's conversion.
97% of marketers state that ABM provides a higher ROI (return on investment) than other marketing strategies. However, before implementing account-based marketing or ABM marketing in your campaigns, know that your business is fit for it. So, to clear all your doubts and questions about this sales-intensive marketing approach, here's a detailed guide on account-based marketing for SaaS companies.
Overview of Account-Based Marketing
As a marketer, you must be aware of the rapidly growing trend of personalized campaigns. ABM or Account-based marketing covers just that. It is a type of marketing strategy that influences only specific target accounts in a market. Using this strategy, you will focus on two things:

Needs and pain points of the specific account.
Marketing message creation based on the particular account's attributes.
Your SaaS ABM marketing strategy will deal with qualified lead generation and cross-selling/upselling to high-value existing customer accounts. It's evident that personalization will be a significant factor in whichever ABM approach you take. If you want new leads or to please your existing customers, you'll have to give them exactly what they are looking for.

Studies say 80% of customers are likelier to pick a brand that offers a personalized experience.

An effective ABM involves:

In-depth customer research.
A/B tests.
Actively staying in touch with your target accounts without bugging them too much.
To help you understand how you can do it, let's dive deeper into the world of account-based marketing for SaaS companies.
Types of account-based marketing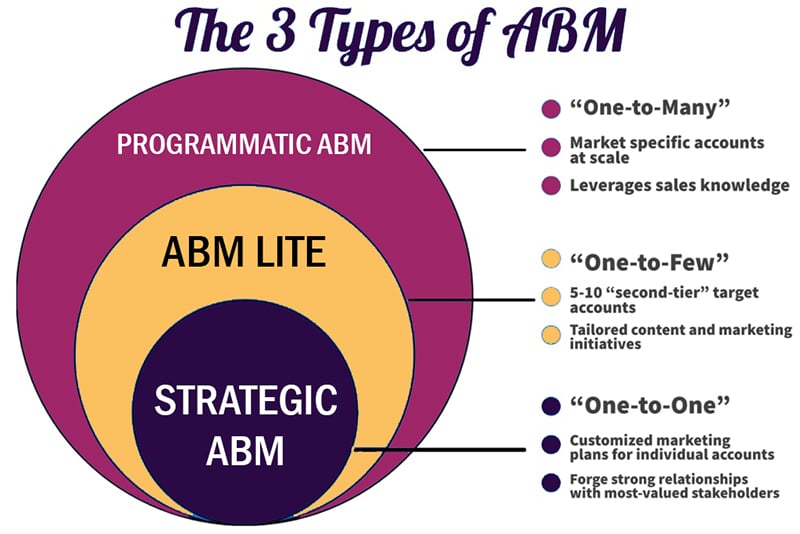 Account-based marketing strategy for SaaS companies divides into three types, depending on the methods involved. These are as follows:
One-to-One Marketing
1:1 marketing or one-to-one marketing works around existing high-value accounts. Instead of segmenting consumers into groups and sending similar messages, ABM delivers unique marketing materials to each account.
You must begin developing your 1:1 marketing strategy by empathizing with the target user. Comprehend how they will feel when they encounter your latest offering. Your messaging has to be action-oriented, relevant, and, most significantly, personalized.
It will help build a meaningful relationship with your target audience. A study suggests that developing meaningful customer relationships boosts order numbers, increasing total revenue.
Here are a few effective strategies involved in 1:1 marketing:
Customized Content: Deliver content that includes specific struggles of an account. It shows that you have researched and genuinely care about their needs.
Tailored Online Experience: Provide an individualized experience with custom web pages. Ensure to incorporate their name, job title, brand logo, etc.
Targeted Promotions and Deals: Engage with your audience through targeted promotions. Offer discounted solutions to their immediate problems.
One-to-Few Marketing/ABM Lite
The next type of account-based marketing strategy for SaaS companies is ABM Lite. It targets the 2nd-tier named accounts. ABN Lite's main focus isn't on individual customers. Instead, your marketing and sales teams need to identify 5-10 target accounts with needs, challenges, and goals falling under similar categories.
Understanding your ideal consumer profiles, personas, and segments is important to group the ABM Lite B2B accounts. In addition, this strategy requires you to be flexible with budgets and the addition of more qualified team members and tools.
One-to-Many Marketing/Strategic ABM
It works similarly to ABM Lite, but instead of targeting only 5-10 accounts, you will group 100s to 1000s of them. Customer demographics will play a massive role in creating these groups. It found that using a marketing automation tool or CRM for programmatic ABM works wonders. This software allows you to group accounts and target messaging based on their industry verticals and other broader descriptors.
For example, the company's features, size, or area of expertise.
You won't need multiple financial resources and much time to perform strategic ABM. Thus, it is best for small-scale companies that have a tight budget.
How to get started with ABM For A Successful B2B SaaS Marketing?
Now, that you have learned about ABM types, let's explore how to develop an account-based marketing strategy for your SaaS company.
1. Create Your ICP (Ideal Customer Profile)
Knowing who you need to target is imperative in creating a successful B2B SaaS demand generation campaign. Though most marketing strategies prefer covering a larger audience due to better potential and reach, account-based marketing for SaaS companies has to be more confined to be effective.
If you try to convey a generic message that does not speak to a particular group of people, they'll never see you as their problem solver or leader in the industry. Therefore, knowing who to target is imperative in creating a successful B2B SaaS marketing campaign.
An ideal customer profile is an entire company's description fit for your product/service and not any end-user or buyer. Your ICP must include your target account's relevant characteristics:
Industry/vertical
Employee headcount (companywide as well as within main departments)
Yearly revenue
Budget
Technology they use
Geography
Their customer base size
The maturity level of an organizational or technological system
Now, you know which points you have to focus on and how you will develop your company's ICP. Here's how:

Arrange one-on-one interviews with your best customers. It will help determine which ones are ready to onboard, high-value, and understand your service/product's importance.
Research information by interviewing marketing, sales, customer service, and other executives.
Once done with the interview rounds, analyze the shared patterns among your best customers. It will help you out in filtering needed data to build your ICP.
2. Address the Right Personas
Suppose you go after your best customer companies but spend hours with people who don't have needed insights. Then, it will be just a waste of time. Therefore, you need to create personas that can give you the required information and success when you interact with your best customer companies. Consider the following points while creating personas:
Who is the initial point of contact to help you reach your selected account?
Who is the decision-maker of product purchases for the company?
Who is going to be your internal advocate within your target company?
Who will potentially hinder your target company from buying your product, and how will you convince them?
Who will benefit from your service?
3. Create Marketing Funnel Content
Once you have prepared your personas and ICP, move ahead to communicate effectively with each account. Apply the insights you gained from personas and ICP in your content.
You must educate your prospects about their positioning in the customer journey and what they need to do to get to the next phase. Use these content types for your ABM campaign to optimize customer journey:
Awareness: Provide a general company and product information (Blog articles with a thought leadership approach)
Consideration: Pricing and technical details (Product-oriented pages that contain pricing details, specifications, versions, etc., of the product)
Conversion: Urgency (Incentives, specials, and honest customer testimonials)
Practice Effective ABM Messaging
You have optimized content, but how do you make your prospects open and consume it while they receive a flood of email ads/ cold sales pitches daily? People usually skim through email subjects before deleting unnecessary emails. Therefore, your initial SaaS cold email has to provide readers with value immediately. Following are the key elements that make your messaging more appealing to readers:
Talk about their dreams and fears: Use the details obtained from personas to address the pain points of your target accounts. Talk about how your service can improve their issues.
Example: Most SaaS customers seek "out-of-the-box solutions", "flexibility" and
"Personalization." Depending on the target account's industry, you can offer appropriate features of your products that can provide them with the above three capabilities. One of the great examples is customized Pricing Plant System.
Ask for help: Customers rarely want to avoid going through sales pitches multiple times a day. However, if you ask for their help instead, it increases their chances of responding. You can add a quick questionnaire about what services they are looking for.
Example: You can ask them the following questions:
1. What business challenges convinced you to consider our SaaS product?
2. What features do you expect to see next?
3. What are the main goals you want to reach with our (or similar) product(s)?

Use Rule of Reciprocity: There are high chances that people will respond to your messages if you offer them something in return.
Example: How to guide on the bought SaaS product, offers and discounts related to the purchase, critical information about best practices, industry knowledge, etc.
Use Appropriate ABM Messaging Channels
As per HubSpot, successful B2B companies use three channels at a minimum and connect with target accounts 15 times throughout the sales process. You can use the following channels to deliver SaaS ABM marketing messaging:
Blogs: Your blogs play a critical part in your multi-channel ABM campaigns. You can create SEO-optimized posts, share problem-solving articles, and promote blog content across social media sites.
YouTube: If you have video content on your products and services. On average, people spend nearly 1.5 hours watching online videos daily. In addition, you can leverage advertising options like interest-based targeting and retargeting, email/CRM, etc., to attract your target accounts.
LinkedIn: Your sales team can use the platform to connect with target accounts and market to qualified leads directly. LinkedIn can be used to deploy full-funnel intent-based campaigns. It includes blog content promotion, event marketing, etc.
Email: Each persona should get personalized emails that consist of initial outreach, follow-ups, responses, etc. Addressing targeted accounts with their names, roles, company names, industry, etc., can be done best through customized emails. Studies show that personalization boosts conversion rates by over 200%.
Content Syndication: Content syndication allows you to promote content and lead magnets to your ABM account list. ABM content syndication is a strategic way to build relationships inside target accounts. The channel allows you to identify contacts with high-engagement rates with your products from various sources, reflecting their interest in purchasing.
When is ABM the right strategy for SaaS?
Before you go for full-fledged ABM marketing, know that the marketing strategy is not for every business. Here are the essential criteria your business needs to pass to perform SaaS ABM marketing:
The Deal Size
If your SaaS company has a deal size greater than $/£/€50,000, then ABM is a perfect strategy to grow your business. But why so? It's because ABM leverages personalization. Thus it requires heavy investment, deeper insights, and creativity compared to traditional sales and marketing approaches. However, it is worth the investment. Reports suggest that around 60% of companies using ABM marketing experienced a 10% revenue increase within a year.
Company's Stage
SaaS companies that have reached maturity or are in a rapid stage should consider full-scale ABM programs. Check whether your company has:

Passed the market/product fit stage
A completely defined marketing function compatible with the ABM program
Ability to make time and financial commitment for a resource-intensive strategy
Defined Ideal Customer Profile
As already discussed, a defined ICP makes a solid foundation for the ABM initiative. Use the learnings from your existing and early-growth customer base to ensure you are targeting the right accounts.
Additionally, you must ensure that your marketing and sales teams and other relevant stakeholders across your organization approve your ICP.
Marketing and Sales Alignment
A successful ABM incorporates marketing and sales alignment. A well-aligned organization can secure a 50% reduction in wasted sales time on unproductive follow-ups. If the marketing and sales team of your organization agrees on the following aspects, then the ABM program is fit for your company:
Filters or methods to select target accounts.
Who is responsible for bringing engagement across multiple touchpoints?
How will the team collaborate and communicate?
Successful Account-Based Marketing Examples from Top B2B SaaS companies
Salesloft
Company description: Salesloft is a well-known SaaS business that helps digital sellers to make the best sales-related decisions. Its product helps them to mine CRM data intelligently, helping them to nurture leads to close sales.
ABM strategy used by Salesloft: The SaaS company used the personalized gifting tactic to impress its prospects. The company's marketing and sales teams needed a more effective way to personalize their communication with their potential accounts. To tackle this, Salesloft leveraged a curated marketplace to develop a direct mail ABM campaign. It enabled the company's sales development representatives to send target customers gifts aligned with their interests. But how did it benefit the company? Along with gifts, Salesloft paired a meeting booker to enable customers to connect with them more easily.
The outcome of the ABM strategy:
There was a 9% boost in meeting attendance.
50% of business development representatives reported being more aligned with strategic marketing programs.
PayScale
Company description: It is a cloud-based compensation software provider that runs advanced analytics to market data. It helps employers make fair salary distributions to their employees.
ABM strategy used by PayScale:
The compensation platform used the multi-channel tactic to promote its services to the right accounts and capitalize on them. Its ABM campaign aimed to deliver relevant ads to a specific audience segment. The company's digital marketing team did in-depth research on Salesforce leads to find the best targets based on job title, location, and company size. Then, they created different ad versions to promote certain content dedicated to using cases that the targeted decision-maker must be looking for.
The outcome of the ABM strategy:
In 7 months, PayScale saw a boost in target account traffic by 500%.
In the same timeline, the company received 6X ROI on revenue, all-time high conversion rates, and a 45% decrease in closing time.
Branch
Company description: It is a deep linking, mobile attribution business. The company has digital businesses to expand its network. In addition, it integrates its product into clients' marketing technology tax to help monitor customer behavior and gain more conversions.
ABM strategy used by Branch: The company combined personalized gift and multi-channel strategies to drive results. The major struggle of the sales team was to drive high conversion rates. They already followed a gift in strategy, but the complete process was slow and manual. To tackle the issue, the marketing team planned a gifting ABM campaign. The Branch introduced tailored gifts for each account and enrolled them in social media, email, or phone call campaigns to boost their chances of booking a meeting at every touch point.
The outcome of the ABM strategy:
The company saved 30 hours in setting up and tracking campaign results.
Attracted to six-figure deals.
Introduced a pipeline-to-spend ratio of 18:1.
Conclusion
There's no need to explain all the grind your marketing and sales team go through to get customers to buy your products. So, why shouldn't you invest your time and money in a marketing strategy with a high chance of closing sales? Now that you have learned the importance of account-based marketing strategy for SaaS companies, go ahead, talk to your team and develop the most effective marketing strategy for your business. Or you can contact us for a risk-free 30min strategy call to discuss your ABM strategy.