As B2B companies mature, they begin to realize that even the most sophisticated referral strategies only get them so far. At some point, it becomes vital to transform 'curiosity' into 'customers.' The good news is you can do that by generating 'demand.'
B2B demand generation is a cohesive marketing approach that drives brand awareness and interest and cultivates high-quality leads for a product or service in the B2B marketplace through thoughtful and engaging content.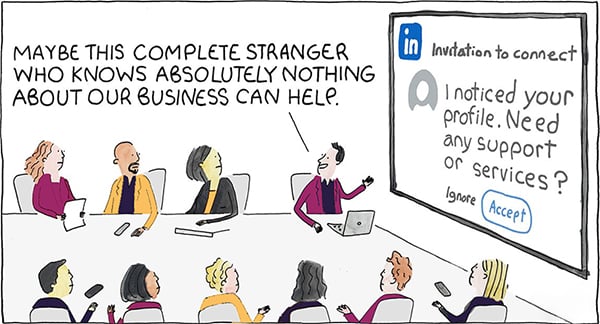 Demand generation is not about 'forcing demand' or 'tricking or pushing' people into purchasing something they do not need. Instead, it is about providing the correct information to the right people at the right time.
Lead generation focuses on converting an engaged audience into a lead through direct outreach. Conversely, a B2B demand generation framework takes more time because it spans multiple touchpoints, campaigns, incentives and just about anything that helps a company generate recognition.
This strategy makes the business messaging sound more authoritative, which ultimately carries more weight with the prospects and results in higher conversions.
Take a deep dive into the distinctions and significance of these two approaches for your business by checking out our article on Demand Generation vs. Lead Generation.
B2B demand generation best practices
Demand generation influences every stage of the buyer's journey, from learning about your business to when they purchase an add-on service and becoming your repeat customer. However, it is a complex tool with multiple components.
If you do not get the entire demand generation machine to run smoothly, the result is a jumbled mess of marketing tactics.
So, if you want to build a healthy pipeline of prospects, you must create a cohesive and inviting brand environment they can step into. You can do so by following the eight B2B demand generation tactics and best practices:
1. Segment your target audience
Audience segmentation is not restricted to arbitrarily grouping your prospects and existing customers and building separate email lists for them. Valuable demand generation happens when you can analyze your data and identify the unique traits that separate your target audience into different groups.
This knowledge aids in drafting messaging, email content, and other marketing assets that align with the needs of each segment, resulting in effective acquisition. Segmentation of B2B demand generation can be done on the following parameters:
Buyer's journey progress -

How inclined the prospect is to make a purchase

Customer tiering -

How well the prospect matches the goals of your business

Technographic -

The kind of role technology plays for prospects

Firmographic -

Company size, industry, revenue, customer type

Behavioral -

What prospects buy, how often they buy, and why they buy that product or service
Once you have segmented your audience, clean your database.
Did you know 50% of the average marketing database is useless primarily because of duplicate records?
Therefore, remove duplicates from the list and merge similar entries of the same contact. Prune inactive and junk contacts and format the refreshed list for uniformity.
2. Develop content that supports the buyer's journey
Demand generation, when done properly, can transform an underdog brand into a star market leader. However, getting there requires a gradual, methodical shift in perception among your target audience. And content is critical to that shift.
But before you start producing content, you must know where your prospects stand in their respective demand generation funnel and what specific pain points they face.
A buyer journey is a process by which a customer decides they need to buy a product or service and then make that purchase. There are typically three stages in a buyer's journey: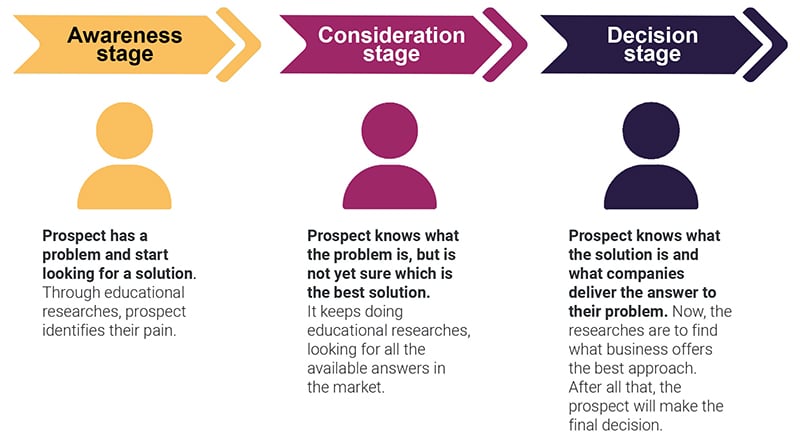 i. Awareness, when the person becomes aware of a problem or need
Create content that establishes you as an industry expert and builds trust with the audience. Blog posts, eBooks, social media creatives, and infographics are effective in this stage as they do not pressurize the prospect to purchase anything.
Instead, they talk about the pain point and the market scenario. Plus, these content types are easily accessible through a simple search on Google.
ii. Consideration, when that problem or need is defined, and the person starts looking for solutions
Your primary goal here is to produce content as helpful and informative as possible, and showcase as yourself the solution your prospects are looking for. Paid ads, targeted landing pages and webinars, whitepapers, and how-to and educational videos aim to nip the problem in the bud for them.
iii. Decision, when a solution has been chosen and bought
Close the deal with conversion-focused content that will convince your prospect to take the last step required to validate their decision. You could offer them a free trial, personalized demo, targeted discounts, product literature (apt if multiple stakeholders are involved), or a cost calculator so that they can see how much they save by using your product or service.
It is evident you can not aim for content at any single stage. If you focus only on the awareness stage, you might educate consumers about why a specific solution is essential.
But if you do not discuss how the solution helps minimize their pain points in the consideration stage, the opportunity is lost! That is why you must customize your messaging and content relevant throughout the journey.
3. Optimize your landing pages and forms
Marketo reports that 68% of B2B companies use strategic landing pages, specifically lead generation. This is not surprising as they enable you to gather information about your website visitors, making it easy to determine how fit they are for your product or service, market them accordingly, and convert them into customers. Therefore, you should appropriately optimize your landing pages. Here are the key elements to consider:
Keep your navigation options to a minimum. Hide top and side navigation bars from the page so that nothing distracts the visitors.
Write a strong headline for the page as that is the first thing they will see when they land on the page. Supplement it with an equally strong subheading that reflects your offering's USP. What makes you so valuable to the visitor?
Your landing page must comprise a few sentences or bullet points clearly stating what the offer includes and how it can make all the difference to the prospects. Anticipate and answer any questions they might have, such as:
What can your visitor gain from your offer?
Does your offer teach them different ways to use your product or service?
Can they save money or get a free trial?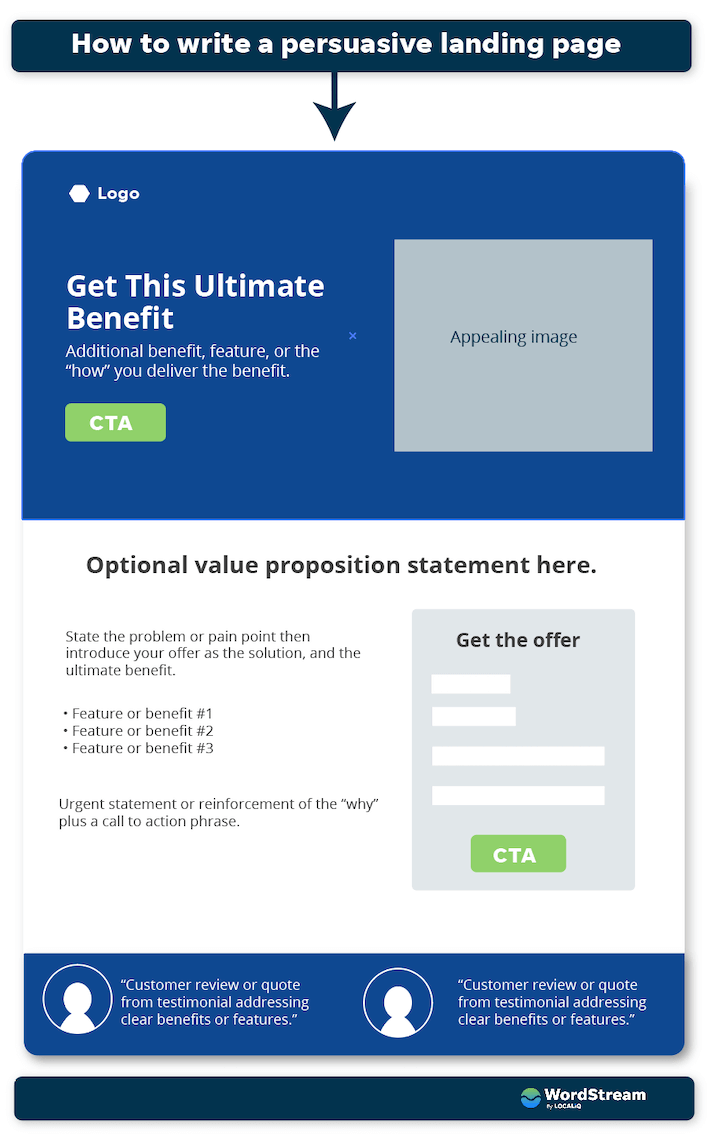 Source
You must offer incentives to your visitors to encourage them to fill out the form. From educational content and discounts to product add-ons and free trials - whatever you offer should be of value, and envision them to see how it will make their life easier.
In addition to well-thought-out content, use strong visuals to grab your visitor's attention. Depending on your landing page, some good examples you can use include the cover image of your eBook, a graphic design stating the discount available, a screenshot of a webinar, and a banner on signing up for a free trial. If possible, add a testimonial video or your product film to further pull the visitors towards your offering.
Lastly, streamline your landing page forms to reduce friction. If your visitor is sold on your offer but finds sharing the contact details tedious, there is a high chance they will bounce. Therefore, keep the form fields at a minimum - only ask for the person's name and business email to keep it easy.
4. Leverage LinkedIn and email marketing to generate demand
With 875 million active members, LinkedIn is a great outreach tool for engaging and nurturing leads. You can target priority LinkedIn accounts via powerful search filters (e.g., company name, title, job functions, industry), contribute to relevant industry groups for brand awareness, run paid advertisements, and leverage in-depth analytics.
Educate your prospects about the problem you can solve through segmenting and clear LinkedIn messaging over time.
Alternatively, crafting engaging email campaigns with valuable content is paramount. Contrary to popular belief, email is not dead.
It remains the top early-stage channel for demand generation, with 79% of B2B marketers agreeing that email is the most effective distribution channel. Here are five tips to follow to use email successfully:
Segment your email list guided by parameters such as firmographics, interests, the issues they face, and so on.
Depending on the segmentation, ensure the email body is specific to each prospect. Carefully choose the topics to ensure the content is valuable and relevant to the recipient.
Email can be used at any stage of the buyer's journey. It gives you the flexibility to promote a variety of content, be it eBooks, blogs, webinars, free trials, or discount offers.
Always keep your emails short and to the point, and let your content speak for itself. Demand generation email campaigns are for the purpose of nurturing the prospects and for them to consume content when they are ready to. Your tone of voice should build an emphasis on them and their needs.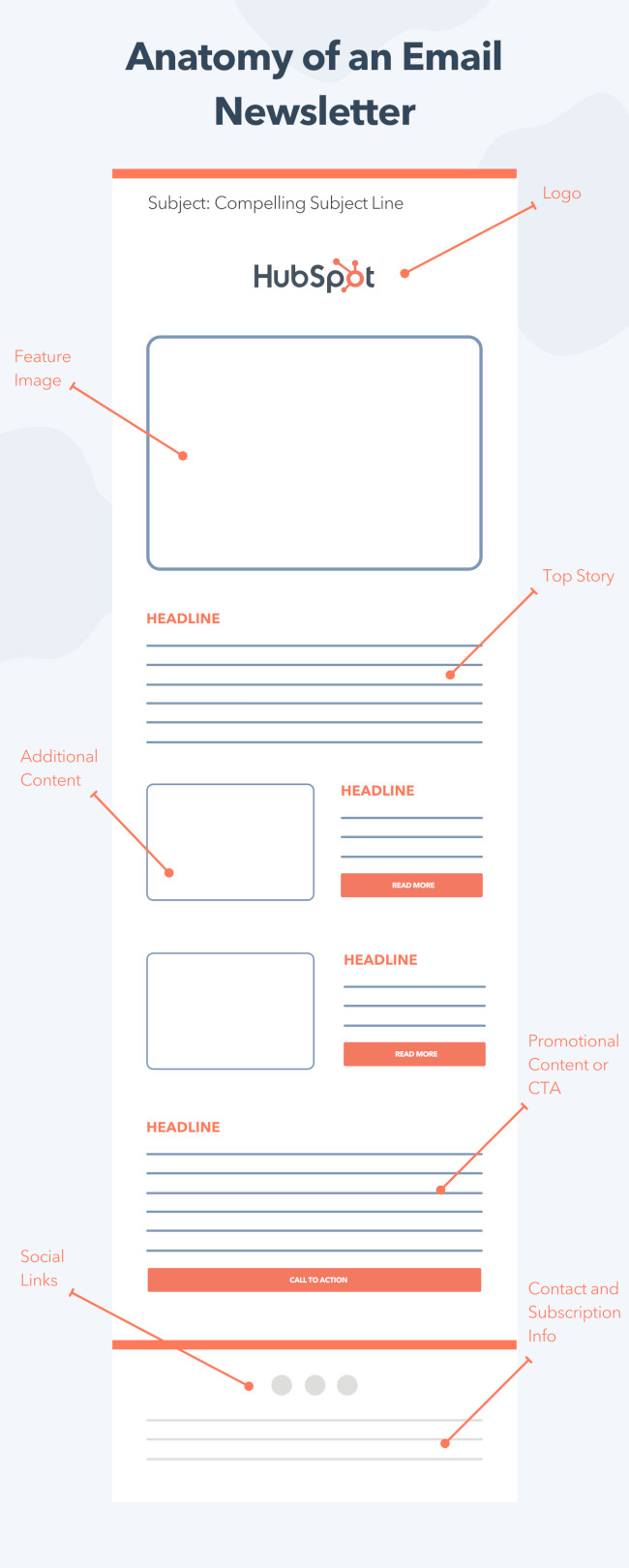 5. Conduct A/B testing and analysis
A/B testing in demand generation involves sending out two more variants of a content piece. A typical example would be a marketing email with two different subject lines.
When conducted properly, A/B testing can bring actionable insights that help reduce bounce rates and boost conversions. Test various elements of a demand generation campaign to identify what works and what does not. Analyze results to improve and optimize performance continually. Here are some suggestions we recommend:
The metrics you track will depend upon what you are testing. For a landing page, monitor the sessions and bounce rates. For an email, keep an eye on the click-throughs and open rates. Set your KPIs and goals before running the test.
What will you change the most? What is the length of your content piece? The placement of your USP? A design element? Whatever element you change or move around should be substantial.
Analyze your data using an analytics solution like

Google Analytics

. And make sure you let enough time pass to take a call on the better-performing version.
6. Utilize customer referrals and partnerships

As a business owner, you know what counts at the end of the day are your leads and how effectively you are able to convert them. Fine-tuning the entire demand generation process takes time and skill, and even if you get it right, you will need to review and tweak it more at some point.
That is where customer referrals can take a lot off your plate. If you offer an excellent product or service, word-of-mouth referrals are bound to happen naturally. However, a conscious effort to cultivate them will result in higher ROI, which is where a customer referral program becomes useful.
Referral prospects are 4X more likely to make a purchase and have a 16% higher lifetime value. You could offer discounts, cashback, store credits, freebies, gift cards, and more to both the customer and their referral to make it worthwhile for both parties.
Similarly, build and nurture partnerships with complementary businesses to expand your reach and sales lead generation. Companies such as LiveChat have a Partner Program page on their site where anyone can apply to be a partner, and as soon as someone applies, they are assigned a partner manager.

The most significant advantage of having business partners is the ability to bank on their popularity, especially if they are more recognizable or bigger than you, and advertise your products or services on their blog, newsletters, podcasts, and social media channels.
7. Invest in marketing automation tools
Marketing automation is essential in demand generation as it automatically helps you manage multi-functional campaigns across channels. You can reach and educate many prospects at once and explain why a pain point they face is important enough for them to invest in a solution.
Research shows that lead quantity rises by 80% for businesses using marketing automation, and there is a 451% boost in qualified leads if the appropriate software is used for it.
You can create personalized experiences for your potential buyers with automated and dynamic content on email, SMS, and social media with the help of marketing automation software.
Integrate it with a CRM like HubSpot or Salesforce to gain access to all your data, segment your contacts appropriately and streamline communication with consistent messaging.
In addition, use marketing analytics to see how well your B2B demand generation strategies work. Common marketing metrics to keep track of include:
Average deal size: >

The average value of every new customer converted within a specific timeframe

Cost Per Lead (CPC): >

The money spent to acquire each lead through advertising methods

Marketing cycle length:

The average amount of time between your first contact with a potential buyer and their purchase or whatever counts as a conversion for you

Customer Lifetime Value (CLV):

The net profit you can earn from each buyer throughout the journey

Customer Acquisition Cost (CAC): >

The amount of money you need to spend to convert a buyer
Data-informed success in marketing automation requires measuring the suitable parameters and acting on the right insights at the right time. This proactiveness will further fuel your demand generation strategy success.
8. Align your marketing and sales teams
It is common knowledge that marketers and sales reps of a business often work in silos. Without transparent communication, marketing will not know what prospects and customers are asking for, and sales will not have knowledge about the marketing team's campaigns.
The messaging may get cross-wired. The exact target audiences may get reached out to twice. It is an utter waste of time and money for the business if both parties do not work together. If the idea of alignment is so critical, why does not everyone try to achieve it? The short answer is a difference in approach.
While the marketing team works towards generating and nurturing leads through an inbound and outbound strategy, balancing product information and brand awareness, the sales team is focused on converting profitable opportunities into sales.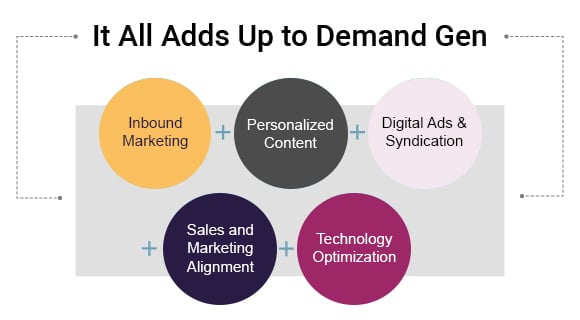 By introducing a fluid demand generation strategy, marketing, and sales can help each other support their goals and different approaches. Here is what they can actually do:
Create a marketing-sales scorecard to bring their respective pipelines together and give clarity of thought
Ensure marketing and sales track the same KPIs
Have weekly joint meetings to share challenges and successes with each other and develop a sense of understanding
Suppose you are able to grow your standard demand generation into a stream of quality data and lead enrichment. In that case, both marketing and sales teams will be much happier, resulting in higher ROI.
Consistency is key to demand generation.
Combining these eight B2B demand generation best practices will help you create compelling demand and drive quality leads for your business. However, as customer habits change and new pain points arise, you must keep optimizing your demand generation strategy, from changing the type of gated content you offer to giving your target audience a free tool.
Demand generation is effective only when you know your prospects well and provide them with exceptional value. And for that, you must always have your hands on deck with a reliable demand generation company.
If you need more information on how to design the perfect strategy, seek help from reputed B2B demand generation agencies. They will help you polish your approaches – from changing the type of gated content you offer to giving your target audience a free tool.

For further reading: 12 Benefits of a Demand Generation Agency