Generating demand for your products or services is critical to your B2B business's success. You might miss focusing on demand generation and other essential business errands.
Thus, you can take the help of a b2b demand generation agency. It can effectively help you achieve your demand generation goals.
Such agencies are specialized marketing firms that create and implement B2B demand generation strategies to generate qualified leads for companies like yours. In addition, they can help you identify your ideal customers and optimize your marketing spend.
Ultimately, demand generation ensures a consistent flow of revenue. It's a way to stay competitive in the industry. With this in mind, let's explore how a demand generation agency can benefit your B2B business.
Top 4 Benefits of Partnering With a Demand Generation Agency


According to a recent survey by HubSpot, 61% of marketers say that generating traffic and leads is their top challenge.
The B2B sector is not exempt from this reality. Most clients cite marketing challenges as the main obstacle to revenue growth.
However, a reliable demand generation agency having expertise in the B2B industry can help you overcome these challenges.
Here are a few benefits of partnering with a reliable demand generation agency:
They can generate targeted content syndication campaigns that speak directly to your target audience.
They also provide data and insights to measure marketing ROI. Plus, they improve the short sales cycles of your business.
They utilize the world's most comprehensive IP database to track when your client businesses visit your website. In fact, you can collect their essential details such as business name, address, phone number, key decision-makers, and email addresses.
They deliver consistent and relevant content and results via email and lead scoring. Thus, you can make queries and engage further with them.
What Do Demand Generation Agencies Do?
If you are looking for what the B2B demand generation agencies do, then here is a quick B2B demand generation plan that they follow: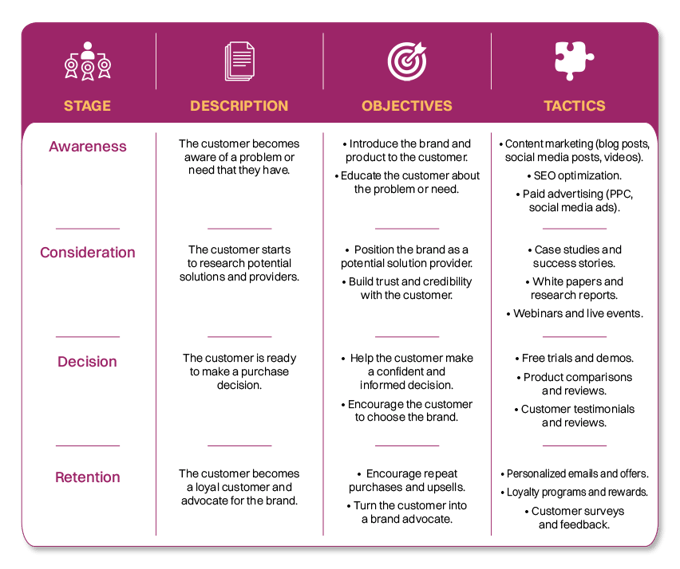 Here is the list of 11 prime functions of B2B demand generation agencies do for your business:
1. Market Research
Demand generation agencies use various methods to gather required data and insights. Conducting proper marketing research is the first step towards demand gen best practices. Some standard methods include:
Customer surveys
Focus groups
Social listening
They help you explore your target market, competitors, and industry trends. Thus, you can better understand your customers, current market requirements, and sales strategies.
2. Connect Marketing And Sales Efforts
It involves aligning the strategies and goals of both these departments. The demand generation agencies ensure your sales and marketing team work together seamlessly toward achieving business objectives.
They also provide tools for sharing data, creating a common language, and defining a process for lead management, communication, and collaboration.
By connecting marketing and sales efforts, you can:
Improve your customer experience
Generate more revenue
Maximize your return on investment
3. Outreach Via Cold Calls Or Emails
Demand generation agencies use advanced tools such as predictive analytics and AI-powered technologies. Such technologies enhance the effectiveness of your outreach efforts.
As such, they can easily create targeted prospect lists and develop messaging tailored to your prospects' particular pain points.
4. Providing Better Insights To Drive Action
These agencies can track customer behavior using CRM platforms and web analytics tools. They own a robust demand generation framework that ensures they are aware of the actions taken by potential customers in the meantime. They use obtained data to:
Create targeted campaigns
Optimize your website and content
Improve your overall sales efforts
5. Events And Trade Shows
Demand generation agencies plan and execute successful events and trade shows. You get to showcase your products and services to potential customers. Plus, they apply follow-up strategies so that you get the most out of your participation in these events.
For example, you can send them follow-up emails or direct emails after 1-2 days of the trade show. It will keep the conversation going with your target prospects.
Check out the sample template:
Subject: [Prospect's Name], Thank You for Joining Us at [Event Name]!
Dear [Prospect's Name],
I hope you are doing well. I want to thank you for attending our recent [Event Name]. I'm eager to learn more about [your company].
During the event, we discussed several challenges that businesses like yours face, including [Pain Point 1], [Pain Point 2], and [Pain Point 3]. As someone who has experienced these challenges firsthand, I understand how difficult they can overcome.
I would like to share a success story about a company we recently worked with. This company also struggled with [Pain Point 1] and [Pain Point 2], harming their revenue productivity.
After trying unsuccessfully to address these issues independently, they enlisted our help. We provided them with [Solution 1], which allowed them to [Benefit 1]. This resulted in improved sales processes and greater visibility into their pipeline, leading to increased revenue and productivity.
In addition, we offered them [Solution 2], which led to [Benefit 2]. This helped them improve their customer support, resulting in stronger client relationships and repeat business.
Your company is facing [specific pain point] based on what you shared during the event. We can help you effectively address this issue, and I would love to set up a call to discuss our solutions in more detail.
If you are interested, please let me know a convenient time for us to connect. Thank you again for attending our event and for your interest in our company. I look forward to speaking with you soon.
Best regards,
[Your Name]
6. Improving Messaging
These agencies tailor the message to your customer's specific position in the demand generation marketing funnel. They use clear, concise language that conveys value and relevant benefits.
Thus, they refine your messaging and value proposition and help you resonate better with your target audience. Additionally, they continually conduct A/B testing of your messaging and use data to improve your sales messages.
7. Sales Enablement
Reputed demand generation agencies provide your sales team with the tools and resources to close deals effectively. They help develop:
Sales collateral
Create playbooks
Educate and support your sales team to leverage the tools
Take the example of REVNEW, the B2B lead gen agency. We offer Salesforce integration and HubSpot solutions, and our experts create customer solutions exclusive to your business.
8. Analytics And Reporting
These agencies analyze data using tools like Google Analytics. The aim is to gather, interpret, and present sales-related data for decision-making. They track customer interactions and provide detailed reports showing your campaigns' performance. Thus, you learn where you can improve.
9. Continuous Optimization
Demand generation agencies use data analysis, customer feedback, and market trends to achieve better results and revenue growth. They test and optimize your campaigns, website, and content so that you get the best possible results.
10. Nurturing Existing Customer Base
The agencies help to show your customers that you value their business through lead nurturing campaigns. Plus, you demonstrate you will go the extra mile to satisfy them. Here's how they do it:
They help you host customer appreciation events, send personalized physical thank-you notes, and offer exclusive loyalty discounts.
The agencies also help create referral programs.
The above approaches keep your customers engaged and loyal to your brand. As such, they lead to higher customer retention rates and drive more long-term success for your business.
11. Planning Referral Campaigns
Demand generation service providers help identify loyal customers. Then, they create personalized referral links or codes, allowing you to share with your network. They also create targeted landing pages and design email campaigns. It encourages customers to refer your business to their contacts.
4 Ways Demand Generation Agency Helps Boost Your Product Demand
A demand generation agency can help increase your product demand through multiple approaches and techniques. Here are the top 4 ways:
1. Consistent Branding
Consistency in brand elements, such as logos, messaging, and visual identity, can encourage long-term commitment. A coherent brand identity enables customers to recall and recommend your brand easily. Thus, fostering a positive reputation.
Additionally, you can cultivate a loyal customer base by upholding brand consistency. These customers can share your brand with their peers. Hence, it boosts your brand awareness and demand.
2. Quality Outbound Advertising
High-quality outbound advertising accentuates the task of establishing connections with potential customers. It can happen through diverse communication channels. These include digital and non-digital ads, social media, email marketing, direct mail, etc.
However, you must deploy communication channels that your intended audience will likely use the most to communicate effectively with them.
For instance, social media might be a productive channel for younger audiences. At the same time, direct mail could be more effective for older audiences.
Also, you must assess the effectiveness of these communication channels regularly. It'll ascertain the maximum returns on your investment.
3. A Consistent Stream Of Leads
To generate a consistent stream of leads, you should understand the demographics and interests of your customers. For this, agencies can help by:
Using social media and email marketing to reach and engage with targeted buyer personas.
Implementing lead magnets such as e-books, webinars, and free trials to capture contact information.
Using lead nurturing techniques to build relationships with leads and move them through the sales funnel.
Adding lead capture forms, call-to-actions (CTAs), and landing pages designed to convert visitors into leads.
4. Touchpoints Along The Customer Journey
It involves identifying the various stages of the customer journey, such as:
Awareness
Consideration
Purchase
Loyalty
It helps pinpoint customers' touch points at each stage. These touchpoints can be diverse. They span online to offline. Some of them are social media, email, website, phone, in-store, or product packaging.
Hence, businesses must ensure the quality of each touchpoint by assessing its performance by analyzing customer feedback. They should measure key metrics, such as conversion or customer satisfaction scores, and conduct usability tests.
When Does Your Business Need A Demand Generation Agency?
You need a demand generation agency to:
Increase its customer base
Improve lead generation
Boost revenue growth
A demand generation service provider for B2B companies develops and executes targeted marketing strategies. They engage potential customers at various stages of the sales funnel.
Your business may lack the resources or expertise to create and implement successful demand generation campaigns. Thus, you may benefit from partnering with a specialized agency. Additionally, if you want to expand your market reach or launch new products/services. Then, you can also benefit from the partnership.
How Should B2B Businesses Do Demand Generation?
For demand generation, you'll need to follow some similar approaches involved in different lead generation stages.
Here is the list of methods:
Step 1: Build Buyer Personas
Identify your ideal customer profiles and create detailed buyer personas that capture their needs, pain points, and motivations. Here's an example of target audience vs buyer personas for the manufacturing industry.
| | | |
| --- | --- | --- |
| Criteria | Target Audience | Buyer Persona |
| Definition | Manufacturing companies that require specific products or services to operate their business. | A detailed description of a fictional character that represents a specific segment of the target audience. |
| Characteristics | Industry, company size, purchasing power, buying habits, production processes, etc. | Job title, responsibilities, pain points, challenges, goals, motivations, etc. |
| Purpose | Helps businesses identify potential customers and tailor their marketing messages to appeal to their needs. | Helps businesses understand the needs and preferences of a specific segment of the target audience and create personalized marketing strategies to attract and retain them. |
| Example | Automotive manufacturers that need specialized parts and components for their vehicles. | John, the Purchasing Manager at ABC Automotive, responsible for sourcing specialized parts for their vehicle production line. |
Step 2: Map Customer Journey
Map out the customer journey and identify the key touchpoints where they can move them closer to a sale.
Step 3: Develop A Content Plan
Create a content strategy that aligns with the buyer personas and the purchasing process. It may include blog posts, social media updates, email campaigns, etc.
Step 4: Multi Channel Content Distribution
Distribute these contents across different channels, using various tactics such as PPC, outbound social media advertising, and email marketing.
Step 5: Measure, Learn, And Iterate
Analyze the data and provide regular reports to the business while showing the impact of the campaigns on customer acquisition.
Find The Right Demand Generation Agency For Your Company
According to Marketo, B2B companies that adopt a well-planned lead generation strategy can gain a 133% increase in revenue compared to those that don't.
Therefore, choosing the right B2B demand generation agency to reach qualified leads is paramount. So, here are a few key tips to identify an agency that can help you achieve your goals:
1. Know What You Need Help With
Understand your company's specific demand generation needs. It involves identifying the gaps in your current lead generation strategy and determining the areas where an agency can assist.
Some examples of demand generation services include lead generation, account-based marketing, content marketing, and cold outreach.
2. Get Recommendations Within Your Industry
One of the most effective ways to find the right B2B demand generation agency is to seek recommendations from other businesses in your industry. As a result, it leverages your industry network and helps you reach out to colleagues or peers.
Alternatively, you can also research industry-related forums or review sites to get a sense of the most reputable agencies in your space.
3. Questions To Ask Your B2B Demand Generation Agency Partner
To find the right B2B demand generation agency, ask the right questions during the evaluation process.
Inquire about their experience with your industry and their approach to lead generation and nurturing. You can also know their technology stack, reporting, and analytics capabilities.
Additionally, ask about their past successes and failures and how they plan to measure the success of their demand generation campaigns.
A survey by Ascend2 says that the top demand generation metrics in the B2B industry include lead quality, conversion rate, and revenue generated. Thus, ensure your chosen agency provides reports around these.
4. Analyze Their Network
An agency's network of partners, vendors, and other service providers can provide a level of expertise. You can evaluate their relationships with industry influencers, publishers, and media outlets.
Furthermore, assess their partnerships with technology providers so that you have access to the latest tools and resources. Some of the top tools that B2B demand generation agencies use include Salesforce, Marketo, and HubSpot.
6. Take Your Time
You shouldn't rush into a partnership without assessing an agency's capabilities fully. For example, find out whether your chosen agency has expertise in inbound or outbound demand generation as per your needs.
An unnecessary rush will lead to suboptimal results and wasted resources.
Instead, take the time to evaluate multiple agencies, ask the right questions, and review their case studies and references.
Conclusion
In today's hyper-competitive business environment, B2B businesses constantly struggle to generate leads and drive revenue. Fortunately, partnering with a demand generation agency can help you address these challenges and achieve your growth goals.
Following the tips outlined above, you can select the right agency partner that aligns with your unique needs, goals, and budget.
As a leading demand generation agency for B2B companies, Revnew understands the complexities of today's complex landscape. It provides tailored solutions to help businesses thrive.
Check out how we assisted a custom equipment manufacturer in generating more than 204 leads and effectively connecting them with key decision-makers.